Humans of Lambert: Diya Mopur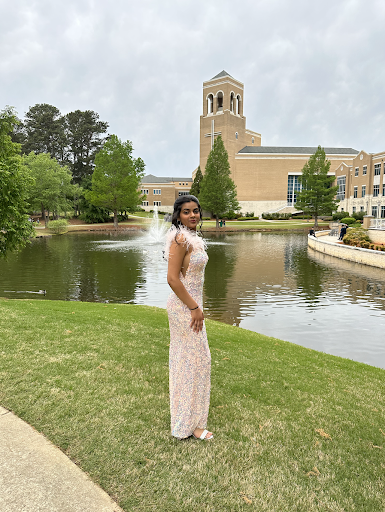 Lambert holds almost 3,000 students working every day to discover and improve upon  their passions, shaping them to define people they hope to become. Whether you enter the iGEM lab or auditorium, you witness students following their passions. 
Diya Mopur is a junior at Lambert and has a love for all things theater, business and dance. She is an active member of The Acting Troupe of Lambert (ATL), DECA, FBLA and TiE Young Entrepreneurs (TYE). 
Over this past year Diya has participated in and placed in a multitude of competitions. The highlight being winning the state TYE competition with a $1,500 consolation prize. Her busy schedule may seem overwhelming for some people, but Diya loves to keep a schedule in order to continue achieving greatness. 
After she graduates, Diya hopes to continue to pursue a business major and use her skills that she learned at TYE to separate her from the crowd. Diya's dream schools are Columbia and Stanford, but she is also looking at California for potential colleges. 
"I want to major in business, regardless of the school I get into," Diya said. "I think that there's a lot of opportunity there."
Although Diya loves business and entrepreneurship, her true passion lies within singing and dancing. Within ATL, Diya is recognized as an amazing dancer and choreographer, having taken on many lead dancing roles in her career. But Diya's talent extends beyond dancing. She often takes singing lessons and acting roles and hopes next year at ATL she can showcase these strengths as well.. 
"I can sing, and I can act, and I want people to know that and respect that," Diya stated. 
But Diya did not achieve all of this success on her own, she gained strength from her friends and family alike. Her friends push her to work hard and not take anything for granted, and her parents continue to support her in all of her endeavors. 
"The friends I made at the TYE Organization 100% impacted me," Diya said. "They keep pushing me to do my best." 
When reflecting on her time at Lambert, Diya emphasized that everyone is different and that there isn't only one way to do something. At Lambert, students often fall victim to comparing themselves to others, but in Diya's eyes, that is useless as everyone is unique. 
"The only thing that can stop you is you," Diya said. 
Donate to The Lambert Post
Your donation will help support The Lambert Post, Lambert High Schools student-run newspaper! Your contribution will allow us to purchase equipment and cover website hosting costs.