Just the Beginning: Aaron Vasyliv
Lambert is an exceptionally talented school filled with students who will become household names. Recently, I was able to sit down with one of these students, junior Aaron Vasyliv.
 In our interview, he told me everything from his rise to stardom to his future plans.
Before coming to Lambert, Aaron grew up in Roswell, GA, for 16 years and spent some time in Gwinnett before moving to Forsyth County. Aaron attended Roswell and then Mill Creek High School, making Lambert his third high school in four years. 
Although Aaron is relatively new to Lambert, he is not unknown. Around early spring, he started to become popular on his Tik Tok account, Rompadong. 
Aaron blew up after participating in the "Can you record me?" trend, with his most popular video receiving 2.2 million likes and 7.5 million views. 
His content as a whole, though, consists of candid videos, funny skits and his love for "75% Reduced Smooth JIF Peanut Butter." 
 In Aaron's videos, he can emulate his idols while producing original, improvisational, cringe comedy and sketch comedy. 
Some of Aaron's inspirations are Tyler the Creator, Charles Ross, Eric Andre and the show "Impractical Jokers."
One of his greatest idols and someone he plans to make videos with is YouTuber Baylen Levine. 
"I've met Baylen like five or seven times," Aaron explained. "He really inspired me…almost shaped my humor, I'd say." 
Aaron's sudden recognition of his comedy was surprising for him, and he greatly appreciates it.
"I feel super happy about it," he expressed. "This is literally the happiest point in my life." 
Aaron was baffled to hear from me that many Lambert students are nervous to talk to him because they consider him famous. He stressed that he doesn't view himself in that way. Aaron wants to talk with everyone because he loves meeting new people.
 Aaron also emphasized that he values being his authentic self online and is no different from his online persona. If you like him online, you will surely like him in person. 
"They know something about me, and they know the inside jokes… it makes me feel good," Aaron said.  
In addition to his genuineness, Aaron can connect with other people because he tries to be open-minded and optimistic. According to him, this mentality is called the "Shrek way of life," a concept Baylen Levine taught him.
"Me and my family have this thing called the Shrek Club," Aaron said. "You just try to be positive – you have fun, and you laugh."
He encourages all Longhorns to try and have this mindset. The "Shrek way of life" has supported him through everything: Tiktok, moving, and relationships.
When Aaron first came to Lambert, he didn't know anyone, and he felt like "it was the end of the world." Luckily, his attitude of being open-minded and optimistic led him to sit next to an acquaintance and their friend group during lunch. 
He was able to make new friends from that point forward, and, now, his favorite part of attending Lambert is his peer group. 
"They have become the coolest people I've ever known," Aaron said.
Aaron is not just authentic and optimistic, but he possesses great confidence. This is apparent in his videos, where he isn't afraid to talk to anyone. However, Aaron assured me that his self-assurance did not develop overnight.
Around seven years old, Aaron was diagnosed with ADHD, affecting him in school.
"In elementary school, I wasn't confident at all," he said. "People thought I was really weird because I was being myself. I cared what people thought, so I put on a front throughout middle school."
After freshman year, he decided to ingrain in his mind the mentality of  " who cares what people think." This simple motto convinced him to finally come out of his shell.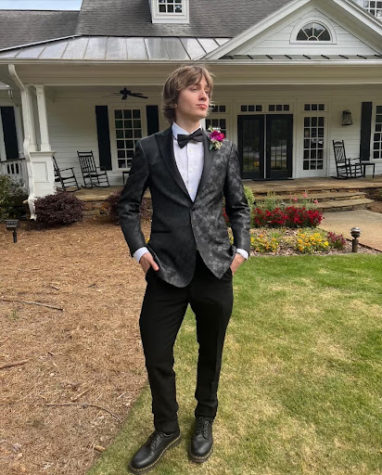 He also explained that his confidence started to come out in middle school once he stopped taking his ADHD medication, suppressing his lively, sociable personality. 
Disclaimer: This is a decision that Aaron's parents are aware of and was the best decision for himself and may not be the same for other people. 
"I didn't like it[the medication]," he stated.  "It made me into a zombie…I hated it."
He expressed that even though he has "bad ADHD," he has more control now and can do well in school.
"I'm just me now," Aaron said. "I think ADHD makes me, me." 
Some other factors that shape Aaron are his interesting habits and affinities. For example, the self-proclaimed "Peanut Butter King" has at least one spoonful of peanut butter and a tub of Breyers Reese's Pieces ice cream every day. His favorite song at the moment is "I Like to Move It," from Madagascar, but his all-time favorite is "Stop breathing" by Playboi Carti.
Our interview would not be complete if Aaron did not explain the meaning of his Tiktok username. "Rompadong" may seem to have an origin story, but "it was an accident."
Initially, Aaron's account name was Metamorphosis, named after a Playboi Carti song. He had this username for a year, but he wanted a catchier name to start his career. 
"I started typing in random letters… then Rompadong popped up, and I accidentally clicked save," Aaron recalled. "Then it said that I couldn't change my name for a month, and I was like 'What?!'"
Around two days later, one of his videos received about a million views, and he decided to stay with the name and has grown to love it. 
However, Rompadong is simply a stepping stone to his dream of being successful on YouTube, where he plans to film vlogs and prank videos. Aaron is making steps to achieving his goal as he has posted two YouTube videos in under two weeks. 
"I'm gonna get big on YouTube, and I'm saying I'm gonna. Not I hope…I might," Aaron said. 
"I'm gonna. I'm 100% confident I'm gonna make it." 
Aaron is a determined person with big dreams. His talent has been seen and enjoyed far past Lambert's halls. Aaron's benevolence and humor will take him far in life, and his mindset is inspiring. The question is not if, but when will he reach his goal. While his future of success is not yet known, it is clear that this is just the beginning.
To follow Aaron on Tik Tok, click here, and to see more of him, click here to go to his YouTube Channel.
Leave a Comment
Donate to The Lambert Post
Your donation will help support The Lambert Post, Lambert High Schools student-run newspaper! Your contribution will allow us to purchase equipment and cover website hosting costs.