Mr. Jakaitis' Journey to Psychology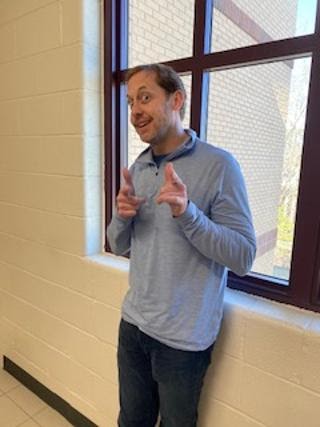 On the second floor of Lambert High School, Brian Jakaitis sits behind a large wooden desk with his feet up and posture relaxed. His AP Psychology students appear relaxed as their carefree chatter fills the room. His classroom is warm and inviting and his students are seated in clusters based on shared results from a personality test.
As a teacher of 15 years (12 of them at Lambert), Mr. Jakaitis has over a decade of experience. Throughout his career, the subject he taught has varied from World History to Government to World Geography and finally, Psychology.
"Actually I didn't choose to teach psychology," he shared with a smile. "I was told that I needed to go get certified to teach AP Psychology. But now I like it, that was like 10 years ago. That was a blessing." 
When asked what surprised him about becoming a teacher, he shared, "the one thing that surprised me was that I was interested in the subject because like I said I didn't necessarily want to teach it and then I came to like it, it was fun."
The 2020-2021 school year was historic due to the amount of unprecedented time spent doing virtual learning. Teachers and students alike had to adjust to the learning curve of such an abrupt transition. Mr. Jakaitis laments the fact that he now spends a large amount of time in front of his computer teaching virtual classes instead of interacting with students face-to-face.
"I am fine with online school, but I would not want to do it full time because I like being around people and the students," he shared. "You don't really get to know the students virtually." 
Mr. Jakaitis certainly embraces his inner highschooler both in the classroom and outside where he coached the boy's golf team until 2015. He maintains a social personality and relaxed aura which allows him to relate to his students and make his lessons engaging without creating a rigid environment.  He often even blends in with his students, opting for a simple jeans, t-shirt and tennis shoe combination.
When asked his favorite thing about being a teacher, he shared, "I would just say being around the kids, Christmas break, summer break, and spring break."
At Lambert alone, there are many different ways teachers share information. The students have to have the motivation to listen and the teacher has to provide a classroom that is a calm and collected place. 
"My approach is always 'Is this important? Do they need to learn it? Will it help them on the AP exam?'" Mr. Jakaitis said about his method of planning lessons.
Some would think that discipline or harping is the best way to lead a classroom or coach a team. Although this is not wrong, Mr. Jakaitis makes sure that everything is kept in line and organized so the students are prepared to learn more efficiently.
"Organization, somehow you got to get the kids to listen to you in both of these," he spoke about his opinion of how coaching and teaching are similar. 
After sharing part of his personality and life as a teacher, he revealed that in a dream world, he would have the skill to pursue professional golfing. 
"Unrealistically, I'd be a professional golfer," he exclaimed. "Maybe a caddy for a good player. I think it would be fun. They travel all over the world and they follow the warm weather."
The quirky tone and deliverance  of his words portrayed that this may be a stretch, but uncovered that he is a profound person with passion and dreams.
When asked what he hopes his students take from his class, he said, "a lot of people say this but hopefully personal responsibility, like you're in charge of yourself and someone can't always be looking out for you." He continues, "I've always wanted to be like this… be myself. I usually always do me. I want my students to see that and hopefully, they do."
Mr. Jakaitis only hopes his students will leave his classroom as a better version of the person that entered his room on the first day of school. His students will eventually move on from high school, spreading all over the world and pursuing different careers but always remembering the time they spent in AP Psychology.
Leave a Comment
Donate to The Lambert Post
Your donation will help support The Lambert Post, Lambert High Schools student-run newspaper! Your contribution will allow us to purchase equipment and cover website hosting costs.