Goodbye & Good Luck, Mrs. Champion!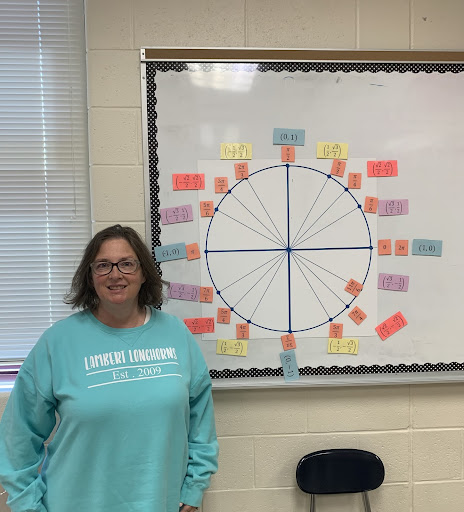 Mrs. Champion has worked at Lambert for nine years, teaching AP Statistics and AP Calculus. Before she became the beloved Longhorn she is now, Champion taught in various schools. 
She taught in Pennsylvania for six years at a small school before moving to Georgia to teach seventh grade. She moved again to Virginia to teach preschool, moved to a school in Arizona for the school's art program, and then traveled back to Georgia in 2008 to teach in Cobb County. From Cobb County, she moved to Fulton County, got her gifted certification, taught at Roswell, and then, finally, took her teaching experience to Forsyth County. 
Preceding her dynamic career, Mrs. Champion graduated from Bloomsburg University in Pennsylvania in 1998. She was a member of the Fellowship of Christian Athletes in college before starting her first student teaching job in Northern Pennsylvania. 
"I always knew I wanted to be a math teacher," Champion said.
She would always help her friends with math problems and strategize about how to do math problems before an exam in college. Mrs. Champion displays her love for all areas of math courses as she teaches two AP mathematics courses while paying careful attention to her students' needs. Although the two courses vastly differ, there are certain aspects of each subject that she enjoys.
"In stats, I like how everything is not black and white, and how you get to look at real-world issues and how two different people can look at the same set of statistics and come up with different inferences based on their viewpoint," Mrs. Champion explained. "I like the applications in Calculus as well, but Calculus is much more focused on precise notation and justification, and I like coming up with silly things for students to remember."
Besides teaching directly, Mrs. Champion loves that Lambert gives teachers the opportunity to interact with their students. 
"I like working with high school students who are getting ready to go out into the world and explore what they are interested in with their lives," Champion said. "I do like the opportunity to just be a listening ear for students."
Mrs. Champion is relocating to St. Augustine, Florida and will teach at a school that will have its first senior class. She plans to teach probability and statistics, which aren't AP courses but give her more time to focus on other activities with her students besides preparing for AP exams. The school is also near the beach, giving her the opportunity to be around the warm weather and time to spend with the people she cares about. The old beach town, St. Augustine, is known for being dog-friendly, which Champion loves for her two dogs. While living in Florida, she plans to focus on more of her hobbies including reading, hiking, camping and spending time with her family.
After working at Lambert for so long and moving to a different environment, there are definitely aspects of being a part of the Longhorn family that she will miss. 
"It's bittersweet, there are things about [Georgia] I'm really gonna miss," she began. "The parents here are really kind; they're very encouraging and appreciative of what we do here."
Mrs. Champion has been a valued part of the Lambert staff and will be missed by her students. We are thankful for her continued years of service and dedication and hope she enjoys the new chapter of her teaching career.
Leave a Comment
Donate to The Lambert Post
Your donation will help support The Lambert Post, Lambert High Schools student-run newspaper! Your contribution will allow us to purchase equipment and cover website hosting costs.