Mrs. Doyal: Starring at Lambert After a Glamorous Upbringing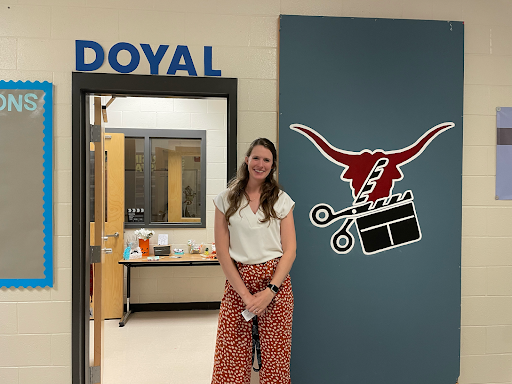 Mrs. Doyal is an ambitious new addition to Lambert, seasoned through years of teaching and film production experience. As the audio video tech and film (AVTF) teacher, she is a crucial part of Lambert's future in film.
Doyal's passion for media was first expressed through her participation in her high school's newspaper. She quickly became the editor, while also accepting the position of campus correspondent. This required her to film all the latest sports news for her school and share her footage with Channel Nine News.
She got her start with Channel Nine by doing a walk-and-talk interview with one of her fellow classmates and submitted the interview to the station. She was named "Toyota Moving Forward Campus Correspondent of the Year" and was awarded $5000 in scholarship money.
In the following years, Doyal chose to attend La Salle in Philadelphia where she interned to learn more about the film industry. Over her early career, Doyal interned at several infamous productions including "The Tonight Show" and "Redskins."
"I was all about just getting experiences because I didn't know what I wanted to do," Doyal stated.
After Doyal graduated college, she promptly got hired at NFL Films for her talent and experience in journalism broadcasting. Her passion led her to contribute to a variety of different shows such as "Hard Knocks" and "The Timeline."
Doyal quickly became a well-known producer at NFL Films and was respected for her work at the company. Around this time her colleague asked for her help editing a project for his show. They would later get married and move to Georgia for his job.
After seven years in the film industry, Doyal wanted to experiment with a new career. With all of her close family being teachers, Doyal felt that teaching was a potential next step.
"West Hall was hiring a graphic design teacher and I was like 'I'll try it… see how it goes,'" Doyal said.
She loved working with students and teaching them how to make their dreams become a reality. She was able to teach them skills she learned throughout her career in the film industry that included interning, connections and resume building.
"I kinda fell into it by accident, but I ended up loving it," Doyal said.
Now at Lambert, Mrs. Doyal teaches levels 1-3 of the AVTF pathway. She is grateful for Lambert's abundance of equipment and is eager to start filming.
Having taught at numerous high schools, Doyal is adamant that the school spirit at Lambert is especially unique and is excited to see what the school year entails.
Donate to The Lambert Post
Your donation will help support The Lambert Post, Lambert High Schools student-run newspaper! Your contribution will allow us to purchase equipment and cover website hosting costs.