The Face Of Lambert's Special Education Program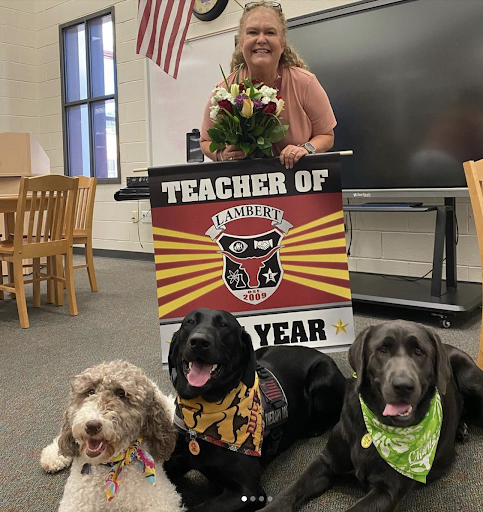 The peer facilitator program has an objective to aid the special instruction classes from daily challenges to just decompressing and having fun. Students are given the opportunity to impact students with developmental disabilities by supporting and providing companionship for them. At the head of this program is Mrs. Nicoletti, who won the teacher of the year award this year! She has worked for Lambert since the year it opened. Her extensive experience at the school along with her valuable insight has provided the foundation for the special education program.
Mrs. Nicoletti's award of recognition came as a surprise to her as she was the third special education teacher in a row to win the award. 
"It's very exciting and humbling," Nicoletti said. "There's a lot of teaching talent in this building."
Nicoletti has taught special education for 26 years and initially started in the co-teaching and small group setting. Co-teaching is a method used in special education where students with varying disabilities are in regular classroom settings but receive help from the general education teacher and a special education teacher. It wasn't until 2015 when she was asked to take over the specialized instruction classroom. 
"I fell in love with it," Mrs. Nicoletti said. 
Mrs. Nicoletti is known for her soft smile that accompanies therapy dog Duck while her arms are locked with the arms of students in her classes. She was attracted to teaching because of her inherent caretaker personality, but it wasn't until college when a friend of hers was diagnosed with dyslexia when she got interested in learning disabilities. 
Before Nicoletti attended Georgia Southern to get her bachelor's in intellectual disabilities and her master's in learning disabilities and behavior disorders, she was a veterinary technician for 12 years. This comes as no surprise as she has adopted Duck to represent the softer, light-hearted side of Lambert.  
Canine Assistants is an organization that raises Golden Retrievers to be service dogs. As a major component of the training process is socialization, Lambert took it upon itself to welcome these Golden Retrievers in 2019 for students to interact with during lunch and learn. After Mrs. Nicoletti saw how positive the student feedback was, she took the idea to Dr. Davidson to get a therapy dog for her classroom. With the advice of Dr. Johnessee, she got in touch with a dog trainer, Scott Rucker, who happened to have a dog who was ready to be donated.
Duck was the son of two grand-champion duck hunting dogs. His lineage made him a prospect to be the country's best duck hunting dog, but to everyone's surprise, he failed out of duck hunting school. Scott Rucker knew he was meant to be a therapy dog and graciously donated him to Nicoletti, who, at the time, had no idea it would flourish into the therapy dog program it is today.
"It was so new," Mrs. Nicoletti said moments before a teacher walked into her classroom to greet Duck. "To be teaching for 26 years and to add something new in that you always had a gut feeling about and to see it blossom is so exciting." 
 To say that her expectations of increasing verbal and emotional skills with the students were exceeded would be an understatement. She knew that dogs were helpful in developing a daily living, communication, emotional, and social skills. His presence has changed the course of the classroom all for the better. The students help to make 'Duck Quackers,' which are homemade dog treats. The students bake, package, and deliver the items to teachers who pay for them. With the new dog park, students memorize the gate code to independently walk the dogs and to enter the dog park. 
Another important component that helps with specialized instruction classroom is the peer facilitator program. They come in and help the students with daily activities and get to know them through spending time with them. Some students involved with the Peer Facilitator program include Ellie Kotanian and Isabella DiLorenzo. 
The Peer Facilitator Program is unique because it allows students to establish a real relationship with students with cognitive and developmental disabilities. Through helping others, they can also learn a lot about themselves. 
"I love helping them celebrate their successes through difficult obstacles they face," Kotanian said. "Seeing them overcome challenges is the most rewarding feeling."
There is so much love and compassion that goes into this program because of the devotion to helping the students. 
"The most rewarding part of being part of the program is being able to just let loose in a class to have fun," DiLorenzo said. "They are all unique in their own ways, and really are just amazing people overall and people don't give them enough credit for the kids they are."
Lambert is forever grateful for Mrs. Nicoletti's dedication to her classrooms and the Peer Facilitator Program. This program has vastly impacted hundreds of students and the vigor of the school as a whole. Congratulations on this well-deserved reward, Mrs. Nicoletti!
Leave a Comment
Donate to The Lambert Post
Your donation will help support The Lambert Post, Lambert High Schools student-run newspaper! Your contribution will allow us to purchase equipment and cover website hosting costs.