The Trials and Tribulations of Applying to Colleges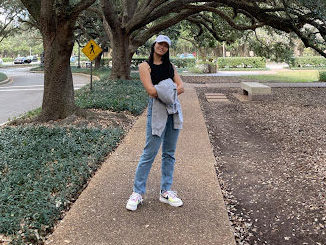 For some, college is a culmination of all their hard work in their educational career. For others, college is merely furthering their education. In sight of Lambert's highly competitive reputation, especially concerning college admissions, it's vital for students to be confident in their abilities and not to place too much pressure on themselves. Sheryl Tan is a senior at Lambert who has made it to the other side of the college admission process, and she has insight to spread through her experiences.
For Sheryl, the hardest part of applying to colleges was determining which ones she was interested in. She took time to carefully research colleges to ensure that she made informed decisions. In an effort to learn more about prospective colleges, she would attend virtual sessions and listen to their podcasts. She believes this helped her a lot because she was able to understand the school and its students on a more personal level. 
Writing the Common Application essay and supplemental essays posed the second biggest challenge to Sheryl. One of the biggest things she learned was how important it is to not let the essay prompt strain her ability to write.  
"Don't think about some monumental event in your life," Sheryl said. "Sometimes, if you're constrained to that, you can't use more creative ideas from your life."
Rather than thinking of significant, monumental things that changed your life, it can be more impactful to write about more mundane things that made you who you are. For example, Sheryl wrote her Common Application essay about how she would play card games with her friends every weekend and that this ritual helped her to grow into the person she is. She advises students to carefully think about what they want to write about rather than jumping straight into writing. During her junior year, she didn't spend much time thinking about college, but throughout her senior year, she would write down ideas for her essays. Looking back, she wishes she had talked to more people she trusted and asked them for their perspectives on her essays. 
The thing that helped Sheryl make the most out of her academic high school career was the career pathway opportunities. Through her healthcare classes, she was able to learn more about the subject while deciding if it was something she wanted to pursue in college and beyond. Beyond her academic life, the friends that she had by her side made the biggest difference.
"I think, throughout my high school career, my friends helped push me to be a better person," Sheryl said. "It's always about the people you surround yourself with because they can help you and show you what you can do to be better. It's not always a competitive environment; it's supportive."
Sheryl applied to the University of Georgia, Georgia Tech, Northeastern University, Northwestern University, Rice University, Brown University and the University of Pennsylvania. Out of the schools she applied to, she got into UGA, GA Tech and Northeastern; she is still waiting to hear from the other schools. She hopes to attend Northwestern or Rice University to pursue a degree in biochemistry to get her on the pre-med track.
"I'm planning on discovering what I want to do in the medical field, and even if I don't continue with pre-med, it will be a good foundation," Sheryl said.
She chose to apply to all of these colleges because they have tightly knit communities, strong departments in STEM to prepare her for her career and have reputations for being multifaceted.
College is full of new faces, new challenges, new opportunities and overall, a new chapter. New beginnings can be scary, and that's okay. Everything always ends up falling into place, one way or another. Sometimes, things work out in unexpected ways, and rejection can just be redirection. Sheryl found a way to excel in high school and is preparing for a new chapter of her life called "College." While school is important, it's also important to enjoy what is left of your high school experience with some good friends. It's important to remember that college is just a cornerstone of success later in life.
Leave a Comment
Donate to The Lambert Post
Your donation will help support The Lambert Post, Lambert High Schools student-run newspaper! Your contribution will allow us to purchase equipment and cover website hosting costs.