Blessings in a Backpack: Making a Difference in Forsyth County
The Lambert Vertical Team is hosting a food drive this week from May 16-20. All donations will support the Lambert High School chapter of Blessings in Backpack to provide for families in the upcoming weekends. 
Lambert's Vertical Team comprises feeder elementary and middle schools: Riverwatch Middle School, Johns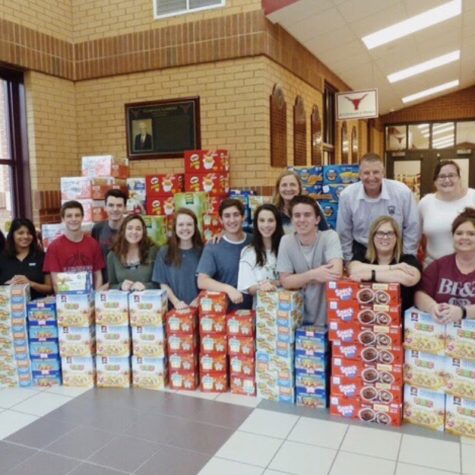 Creek Elementary, Settles Bridge Elementary, Brookwood Elementary and Sharon Elementary. In order to supply a variety of sustaining meals, Lambert has assigned each school specific items to collect. 
Lambert: Chef Boyardee cans, canned meat

Riverwatch: cheese crackers, dried fruit

Brookwood: individually packaged Cheez-its, Goldfish, pretzels 

Johns Creek: microwave popcorn, individually packaged oatmeal, peanut-free granola/fruit bars

Settles Bridge: microwave mac & cheese, non-refrigerated pudding

Sharon: Pirate's Booty, fruit snacks, individually packaged applesauce
Blessings in a Backpack is a Lambert organization that provides weekend food to Forsyth County (FoCo) elementary and middle school students who are on the Federal Free & Reduced Meal Program. Lambert High School club members raise money, purchase food and, each Friday, pack bags that are delivered to FoCo elementary and middle schools. Lambert Blessings in a Backpack hosts several school-wide food drives throughout the year. 100% of the food and money collected is used to fill backpacks for students in Forsyth county. This school year, Blessings in a Backpack is responsible for feeding 344 students at 16 schools, which equates to 12,000 backpacks of food and 84,000 individual food items. 
"Blessings [in a Backpack] gives us the chance to put in time and effort toward a goal that has a direct, tangible impact on our community," Marco Nader, current junior and Logistics Officer and next year's President of Communications, said. "I like thinking that the food we are counting and packing is going to provide meals for students close to us. You never know who might be struggling with food insecurity in silence, and Blessings is our way of providing some relief to our community."
Blessings in a Backpack offers a myriad of volunteering opportunities. Besides donating, there are meetings every Friday morning and Wednesday evening to pack backpacks with food items. Additionally, Blessings in a Backpack encourages companies to provide gift cards, monetary donations or sponsor a student for the school year. Volunteers to drive the backpacks on Friday mornings are also needed.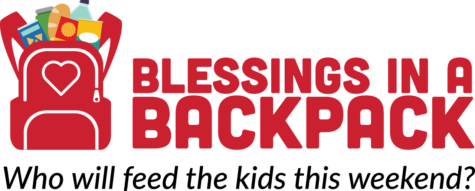 "Coming to Friday morning meetings is a great way to provide time and effort directly into supporting your community," Nadar explained. "You can be sure that the bags you are stocking will be in the hands of a student by the end of the day."
For more information about volunteering opportunities, service hours and sign-ups, visit the Lambert Blessings in a Backpack website. 
Blessings in a Backpack has been valuable to the community since its establishment. However, as society recovers from the COVID-19 pandemic, supporting families is more important now than ever before. 
"Due to the Covid-19 pandemic, as well as rising food costs, there is an increasing number of families in need of support," Nader said. "I was very happy to hear that Forsyth County schools would be providing lunch for free during the week when we returned to school in August of 2020. Yet, this only covers 5 out of the 7 days of the week. Blessings' focus is to deliver food on Fridays, so students can return home from school for the weekend with food items to support them through the weekend."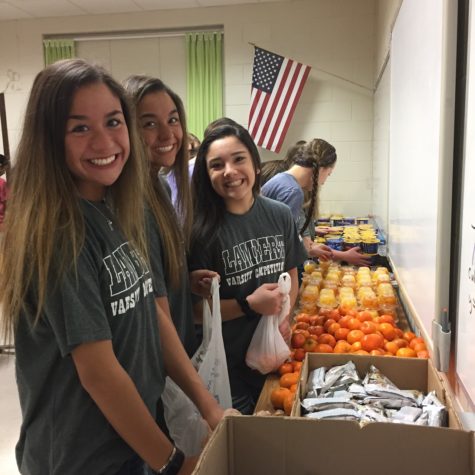 Blessings in a Backpack gives students an opportunity to serve those less fortunate than themselves. Joining the club will create an environment of students who share a passion for servant leadership in a fun, authentic way. 
"It's a great opportunity to help students in the community while also learning leadership traits," senior and current President, Averi Cline, said. "It's an honor to lead such an amazing club and see so many people come together to help the students in our community."
In addition to feeding over 300 students, participating in the current food drive will earn service hours in a number of clubs including the National Honors Society (NHS) and National English Honors Society (NEHS). If you're unable to donate currently, supporting Blessing in a Backpack during the summer is also possible. 
"Start organizing food drives and donations to help next year's fund," Cline explained. "The more support we have, the more potential we have to help more students."
To get updates on everything Blessings in a Backpack, visit their website, contact their email and follow their Instagram. 
Leave a Comment
Donate to The Lambert Post
Your donation will help support The Lambert Post, Lambert High Schools student-run newspaper! Your contribution will allow us to purchase equipment and cover website hosting costs.