Five Things Friday: from terrorism to meteor showers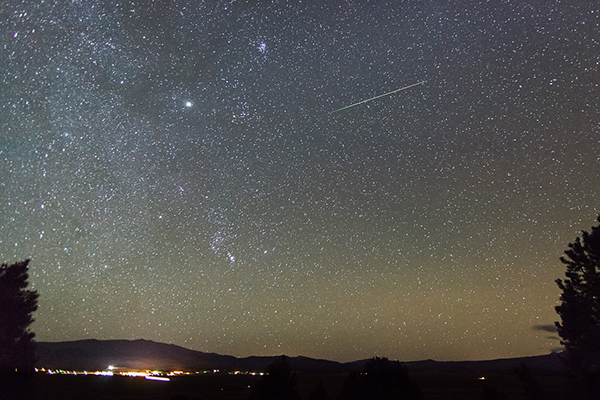 10/14/17: Truck bomb in Somali capital explodes
Early Saturday morning, two truck bombs exploded at a busy highway in Mogadishu, the capital city of Somalia. Despite the United States' continuous counterterrorism efforts, the attack shows that terrorism is still a prevalent threat. Al-Shabab, an Al -Qaeda affiliate, immediately claimed the attack. The initial blast from the first truck caused a nearby hotel to collapse, resulting in most of the casualties, and the second blast killed several more people nearby on the street. In response to this attack, Somalia's President Mohamed Abdullahi Mohamed turned to Twitter: "Today's horrific attack proves our enemy would stop at nothing to cause our people pain and suffering. Let's unite against terror." The death toll has risen to over 300 people, making this the deadliest attack Somalia has ever experienced.
10/15/17: Engineers develop shifting 3D material
Engineers at Cornell University in Ithaca, New York working in the growing field of soft robotics have developed a programmable 3D material able to change its appearance. By incorporating technology of silicone-based elastomers with embroidery fabric, engineers utilized air pressure to mold the materials into the pre-engineered shapes. While this area of research is relatively new, project engineers such as James Pikul state that this type of technology can open doors for new innovations- for both military and societal uses. Pikul, for instance, would like to apply this technology to displays of cars to make 3D maps for drivers as well as integrate this technology into the military to design updated camouflage techniques for soldiers.
10/16/17: Catalonia government calls for negotiation
In an official letter to Madrid early Monday, Carles Puigdemont, the President of the government of Catalonia, called for a negotiation, a marked departure from his approach  of pressing independence legislation. The new approach was likely a response to the numerous protests and counter-protests to Catalan independence that have been sweeping through Spain for the past few weeks. Although Puigdemont signed a declaration of independence from the state of Spain, he halted the implementation to allow for negotiations for both parties. In response to Puigdemont call for negotiation, Soraya Sáenz de Santamaría, the Deputy Prime Minister of Spain, demands that Puigdemont have a clear position by Thursday, October 19. In a statement addressed to the Spanish citizens, Deputy Prime Minister Santamaria states that she "deeply regrets" that the Catalan government "decided not to respond" to Prime Minister Mariano Rajoy's request for clarity on the region's independence decision.
10/17/17: California wildfires show signs of stopping
For the past week, Northern California- specially the regions of Napa Valley and Sonoma County- has been ravaged by intense wildfires. The conditions, however, seem to be taking a turn for the better. In a statement release by Daniel Berlant, a spokesman for the California Department of Forestry and Fire Protection, revealed that now more than 50 percent of the wildfires are contained- a step up from the 95 percent uncontained fire just last week. "A week ago this started as a nightmare, and the day we dreamed of has arrived," Napa County Supervisor Belia Ramos states. Nevertheless with over 40 casualties and still over 100 missing, Napa County Fire Department has declared this to be "one of the deadliest outbreaks of wildfires to ever hit the state."
10/18/17: Orionid meteor showers expected show over weekend
The annual Orionid Meteor shower is expected to show its peak either Saturday, October 21 or Sunday, October 22. According to NASA, with a clear forecast during the night, the viewing should be mostly clear over much of North Carolina, making it ideal situation for spectators. Bill Cooke, head of NASA's Meteoroid Environmental Office states that spectators may be able to witness anywhere from 30 to 40 meteorites per hour, to as much as 80 meteorites per hour during the shower's peak. The Orionid meteor shower will be lead by Halley's comet this year, allowing for a greater the show as fragments of rock from Halley burn in the atmosphere. NASA suggests spectators to go out around 1:30 AM away from the city lights to experience the best views.
Leave a Comment
Donate to The Lambert Post
Your donation will help support The Lambert Post, Lambert High Schools student-run newspaper! Your contribution will allow us to purchase equipment and cover website hosting costs.