Giving Back to the Community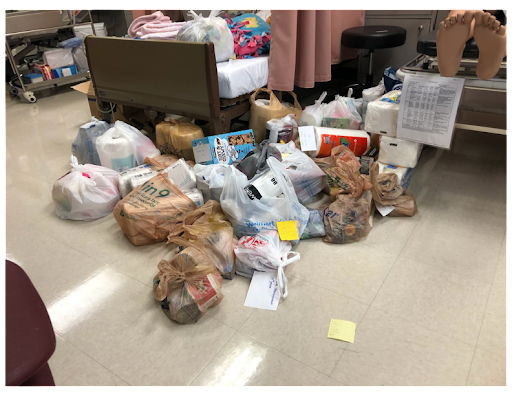 The month of Thanksgiving is a time where we reflect back on our lives and give our gratitude to the gifts we've been blessed with. Not only that, but it's a month where we pay forward things we take for granted to those who aren't fortunate enough to have basic necessities. 
For Thanksgiving, the clubs of Lambert are doing a number of things in the spirit of Thanksgiving. Drives, donations, and events of fundraising are taking place throughout the month. 
One notable club who's adding to the cause, is Lambert's Health Occupations Students of America. This club is a nationwide known organization that focuses on aspects of healthcare, and furthers members experience in developing themselves as a leader. Another large part of their mission is giving back to the community. 
Starting from the beginning of November, HOSA has hosted a blood drive for the hospitals of Atlanta. The club has met their goal of saving 153 lives in just the span of two days. Volunteers of HOSA spent their time raising awareness for the drive and took time out of their day to garner the attention of other students in hopes to have enough blood donated to reach their goal. 
To gain some insight, an interview with Melinda Suber, the host of these drives, offered with clarification of some information. 
The club had just wrapped up their Thanksgiving food drive for non-generation focus. They have also assisted with Dental Town's drive for a shelter asking for toiletry items. HOSA has also donated to the residents at the antebellum nursing home, consisting of items ranging from toothpaste to scarves. Their most recent hosted drive was making blankets and pillowcases for children in intensive care units. 
Not just that, but the recent drives touch close to home for Mrs. Suber. 
Before coming to work at Lambert, she worked at another school in the area of South Georgia, where kids were not as fortunate to have all the luxuries that we have had. 
"If I had food on my table, like leftovers from home, all the time, [the kids] would ask, 'Do you mind if I could have that'," Mrs. Suber said. 
Mrs. Suber considers these every day instances as heart wrenching. Thus, because of these experiences, it fuels her motive to help assist in hosting all these drives.   
The students of Lambert all contribute to a cause, to give back to those in need.
During the month of november, Lambert longhorn pride of showing gratitude has definitely shown through all their hard work. 
"Whenever you reach a certain point, you're comfortable, then you should always give back," Mrs. Suber declared. 
Leave a Comment
Donate to The Lambert Post
Your donation will help support The Lambert Post, Lambert High Schools student-run newspaper! Your contribution will allow us to purchase equipment and cover website hosting costs.