How the Lambert Pack is Helping Students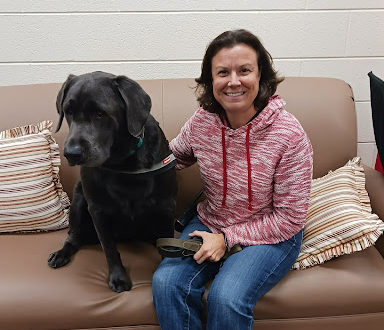 Charlie, a charcoal labrador retriever, is owned by Mrs. Parker, who works on the administrative team. She first got Charlie as a family puppy at only 10 weeks old but decided that she wanted to train her in obedience. Parker needed professional help to train Charlie, so she visited Scott Rucker. During the training sessions, Parker discovered they offer therapy dog training. With Charlie's calm and laid-back temperament, she found her place as a therapy dog.
Charlie resides in the counseling office helping students who struggle with high anxiety or stress levels. If a student does want to visit a teacher's classroom, they can visit the counseling office and get the aid of one of the administrative therapy dogs.
"Since I don't have a classroom of students, Charlie will help out the students in the counseling office that would like to see a therapy dog," Parker explained, "If there's a student struggling with anxiety or having a panic attack, then they'll call one of our dogs."
Numerous research studies explain how therapy dogs can help students' social and emotional learning needs. Therapy dogs can help students learn social skills, like talking to the trainers of the dogs, which can lead to valuable life skills.
"Interaction with therapy dogs has also been found to cause a social catalyst effect, and this further helps improve the stimulation of social behavior," Alliance of Therapy Dogs says.
Some benefits of having therapy dogs in schools include:
Increased school attendance

Growth in confidence levels

Development of better and stronger relationships between teachers and peers

Enhanced motivation
Students who wish to get counseling or therapy can visit Charlie and other administrative therapy dogs in the front office. To keep up with Charlie outside of school, students can follow Charlie on her Instagram account @goodluckcharlie_lhs.
Donate to The Lambert Post
Your donation will help support The Lambert Post, Lambert High Schools student-run newspaper! Your contribution will allow us to purchase equipment and cover website hosting costs.