Naatu Naatu Steals the Show at the 2023 Oscars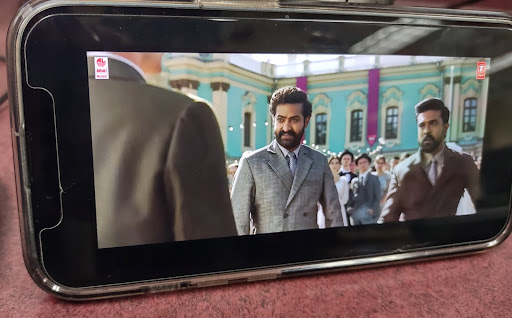 It has been more than a month since this year's edition of the Oscars, and one song in particular is still making headlines for its groundbreaking performance. The hit number "Naatu Naatu" from the Telugu-language film"RRR" took home Best Original Song in a lineup stacked with formidable artists such as Rihanna and Lady Gaga, becoming the first song from an Indian production to win an Oscar. The event has been a shining moment for the Indian film industry and a majority of Indians as a whole, helping shed light on their music and culture as a whole.
"I started dancing in front of the TV [during the Oscars]; it was crazy," Lambert sophomore Nithilan Ajith Nadarajan said. "It made me feel really proud as an Indian." 
The song understandably had audiences grooving with the captivating moves of Indian actors N.T. Rama Rao Jr. and Ram Charan, the authentic vocals of Rahul Sipulgunj and Kaala Bhairava and the intricate choreography of Prem Rakshith. Its most notable aspect, however, was the manner in which it portrayed authentic Indian culture and yet was able to appeal to such a wide global audience. This balance was in no small part a major factor in Naatu Naatu's success at this year's Oscars, an environment that is traditionally known to favor those who are white.
"It's nice to see some Indian representation, especially in a white-dominated industry," Lambert sophomore Vikrant Pansari explained. "This will hopefully inspire other Indian artists that their styles can succeed on an international level as well."
The success of "Naatu Naatu" has gone beyond just an award, as it has helped empower Indian musicians who otherwise could never dream of their music reaching such an audience. In the Telugu language, the word 'naatu' itself means raw and ethnic, and it is this authenticity that many aspiring artists hope to preserve and highlight in their own music irrespective of where their audiences are coming from. While Western influence continues to dominate this global music stage, the impact created by Naatu Naatu will definitely be a strong first step in propagating authentic cultural music for many in the Indian music genre.
"Naatu Naatu's" Oscar win has represented a true global phenomenon in every sense of the word with a song seemingly representing rusticity making massive headlines around the globe. What started with one film has reached a variety of audiences, helping empower an entire generation of Indian musicians to continue pursuing the music of their roots. Whatever the future holds for India's music industry, one thing is certain for now- "Naatu Naatu" stole the show in every way possible.
Donate to The Lambert Post
Your donation will help support The Lambert Post, Lambert High Schools student-run newspaper! Your contribution will allow us to purchase equipment and cover website hosting costs.