Repticon is Slithering into Atlanta this Winter Break!
The Repticon team is bringing yet another two-day show and sale of reptiles, invertebrates, and other exotic animals on January 4th and 5th, 2020. Repticon will be hosted at the Gwinnett County Fairground (2405 Sugarloaf Parkway Lawrenceville, GA 30045).
Repticon shows have been running across the country for more than a decade. This show won't be any different. Come interact with great breeders and animal lovers and learn about the Earth's creatures with animal seminars and demonstrations. The show will last from 10 a.m. to 5 p.m. on Saturday, and 10 a.m. to 4 p.m. on Sunday.
Tickets will be sold at the door at the following prices:
One-Day Tickets: $10 for adults, $5 for children (Ages 5-12), ages 4 and under free
Two-Day Tickets: $15 for adults, $5 for children (Ages 5-12), ages 4 and under free
(includes VIP hour admission — enter the show one hour early 9 a.m.)
Tickets can also be purchased online at $12 for adults, $5 for children (Ages 5-12), ages 4 and under free. This also includes the VIP hour admission and is the best ticket deal. Purchase them here.
Repticon comes to Atlanta quarterly. The 2020 Atlanta show schedule goes as follows:
January 4 & 5, 2020 
April 4 & 5, 2020
July 25 & 26, 2020
October 10 & 11, 2020
Repticon welcomes guests to bring up to two animals to the show. "We feel this interaction will provide guests with an additional opportunity to engage in discussion with exhibitors and will generate excitement among event attendees.", says the Repticon Team. Any animals you choose to bring must be in good health and under your control at all times. At previous shows, I have seen owners bring their boa constrictors and roll them around in a baby stroller. It is quite a sight to see!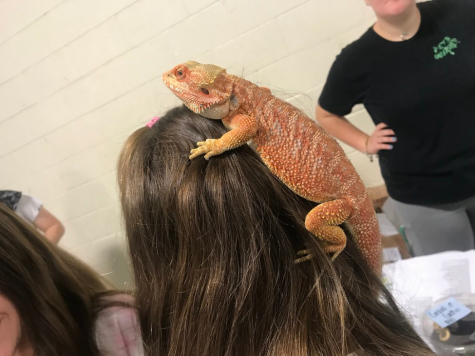 Caption: This Repticon guest brought their pet bearded dragon along! (repticon.com)
I personally will definitely be attending both days this upcoming Repticon to both see and purchase animals from the vendors. When you decide to buy any animal, make sure to ask plenty of questions to make sure the breeder is trustworthy and aligns with your moral concerns. Most good breeders will not mind and might even enjoy this interaction. 
By purchasing from good breeders with healthy animals, you are supporting good breeding practices and the people who see animals as individuals rather than objects. Most franchise-owned pet stores like PetSmart and Petco get their animals from mass-breeding corporations that treat their animals poorly and produce them as if they are a factory product. I try not to support this by attending these events and purchasing animals from the breeders there. Talking to these breeders will make it obvious that they are very knowledgeable and care a lot about their animals.
For more information about this event, including vendor information, visit this repticon.com.
Leave a Comment
Donate to The Lambert Post
Your donation will help support The Lambert Post, Lambert High Schools student-run newspaper! Your contribution will allow us to purchase equipment and cover website hosting costs.