Students gather for the year's first pep rally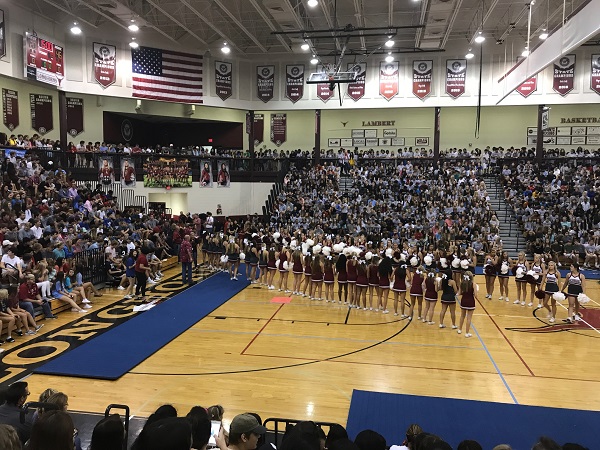 Lambert's first pep rally of the school year was held Friday, August 25 in anticipation for the home football game that same night. At the beginning of third period, all students were called from their classrooms to join in the festivities in the gym. The rally began with Vice Principal Tom Bass going to each of the grades and engaging them in a cheer. Following this, the Girl's Soccer Team and Boy's Tennis Team were brought out to the center of the gym in order to celebrate their State wins and receive their championship rings.
Games and competitions then became the main focus of the event as two representatives from each class took to the floor to compete in a balloon competition. The main objective: keep the balloon in the air; the catch: more balloons were continuously being added making it harder to keep them all afloat. The competition came down to a sophomore versus a senior with the sophomore team ultimately reigning victorious. The next and final game was a match of dodgeball featuring new faculty members versus the Girl's Softball Team (with some help from the Dead Red Nation).
Of course, a Longhorn pep rally would not be a pep rally without the accompaniment of the band and drumline playing from the stands and sidelines. Another crucial part of any pep rally? The cheers. The pep rally closed out with the call-and-response "Lambert Longhorns" chant led by the cheerleaders followed closely behind by Bass's famous "Longhorn Pride" cheer, leaving the student body ready for the night's football game and the rest of the school year.
Leave a Comment
Donate to The Lambert Post
Your donation will help support The Lambert Post, Lambert High Schools student-run newspaper! Your contribution will allow us to purchase equipment and cover website hosting costs.