The Upcoming Beta Con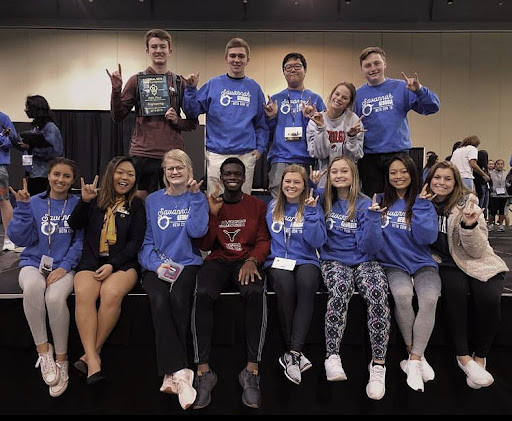 Beta, one of the most popular clubs in Lambert high school, is preparing for its annual convention. 
Beta is a nonprofit service organization that focuses on character, service and leadership throughout the club. In order to join sophomore year, students are required to have a 3.7 GPA or higher by the end of their freshman year. Students part of Beta take part in many volunteering opportunities in order to fulfill their service hour requirements. 
Deepthi Palvai, a sophomore at Lambert, passionately mentions what makes Beta such a fascinating organization 
"Beta gives us the opportunity to give back to the community as high schoolers," Palvai states. 
She talks about the various opportunities that she was given as a beta member. 
"I've helped kids with autism make signs to sell their product," Palvai states. "I've also worked at old age homes. I really like doing things like that because it helps me connect with other people in our community."
Every year, Georgia Beta students attend a conference where they meet their fellow Beta members and are able to participate in various events and competitions.  
This year's Beta conference is being held January 26-28 in Savannah, Georgia. 
Omkar Tamhane, a junior at Lambert running for GA state Beta President, talks about the diversity of interesting events offered in Beta. 
"There are also events like engineering," Tamhane states. "There is apparel design and there's t-shirt design. Basically, it's not only academics where you do testing events. It's everything." 
Students participating in events are able to present them to their peers during Beta Con and also hopefully place in the competition.  
Tamhane mentions that although he has been a part of Beta since sophomore year, this is his first time attending Beta Con where he is participating in the candidate event and running for president. 
He passionately mentions his goals for Beta during his candidacy and hopes to implement them in his term. 
"One of my goals for Beta is to connect people in their own region," Tamhane states. "People in Beta, especially, only get to know people in their own Beta chapter and not outside. So having an opportunity as a region to regroup and have a social [event] could really open doors for conversations." 
Although only around 50 Lambert students are attending this year's Beta Con, many seem to be very excited about the event and hope that more can join them next year.
Leave a Comment
Donate to The Lambert Post
Your donation will help support The Lambert Post, Lambert High Schools student-run newspaper! Your contribution will allow us to purchase equipment and cover website hosting costs.