Why Are Lunch Lines so Long?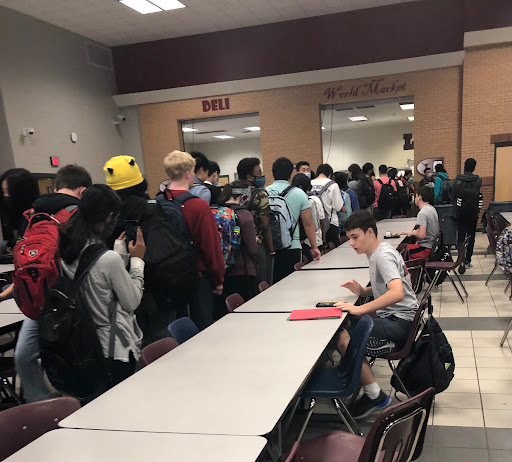 As students return to school, cafeterias have been reopened to full capacity. Unfortunately, many people have expressed their dissatisfaction with the length of the lunch lineups. 
Many students are having trouble adjusting to the substantial increases in lunch line lengths.
Deepthi Pallavai, a sophomore at Lambert high school, has been greatly affected by the lunch lines. She mentions how they have greatly impacted her daily schedule. 
"Literally 5 minutes before ELA ends I'm packing my stuff," Pallavai stated. "And ten seconds before the bell rings I have my backpack on and I'm ready to go," she rages. And then I run down the hall to the lunch line so that I don't have to wait for 30 minutes." 
She expresses her discontent with the apparent lack of time she has as a result of the rush. She highlights her apparent dissatisfaction with the fact that she has lost 5 minutes of ELA time that she could have spent doing something productive since she has to pack.
"They are unprepared and understaffed," Deepthi simply states when asked about the reason for this inconvenience. 
Similarly, when speaking to the cafeteria manager, Naomi Nagata, she emphasizes that because of the free lunches that schools are now providing, Lambert has had to let go of many cafeteria staff. 
"Before COVID we had sixteen employees," Mrs. Negata states. "During COVID we had to get rid of some employees and now we only have nine." 
Mrs. Nagata also emphasizes the fact that now she and her staff have to serve about a total of 1,200 students without being able to hire any new employees. She emphasizes, how because of the free lunches, the county does it have enough funding to hire new employees resulting in more students than the cafeteria workers can handle. 
She states her inability to open up new lunch lines since her staff is having difficulty handling their current number of lines. 
"After September, each school, looking at the numbers, then we will be able to hire more employees," Mrs. Nagata states joyfully.
Mrs. Nagata expresses her remorse for the students but also emphasizes her inability to evoke current change. She hopes that by the end of fall break the lunch lines will be tamed and students will be able to enjoy their lunch and free time sooner. 
Leave a Comment