Why are the Buses so Crowded?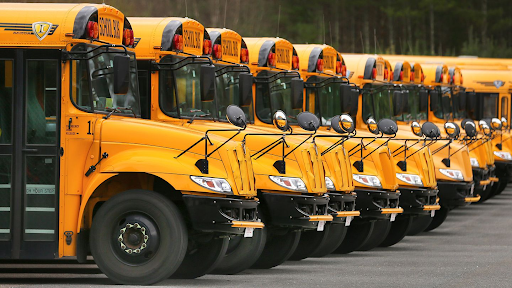 It's no easy feat to come back to school after COVID-19. The ongoing pandemic has taken a heavy toll on students, teachers and staff and Forsyth County bus drivers are no exception.
Late Buses, overcrowded seats and COVID-19 exposure are just a few of many of the complaints that have been circling around the school. 
Buses are a fundamental part of school with around 40% of the student population relying on the bus for transportation. Here we take an inside look at what's going on and why there has been such chaos. 
Mr. Moree, the assistant principal of Lambert High School, expressed his concern for the current bus situation. 
"Countywide, our transportation department is down to about 70 bus drivers," Mr. Moree said. "An average of about two buses down per school."
Not having enough buses has a significant impact upon routing and bus capacity. Due to the shortage, the staff have had to decide whether to make buses transport to more neighborhoods or request them to make more than one trip. 
Why are there so many buses out? COVID-19 is the root of the problem. Buses are one of the greatest hazards due to the lack of social distancing and enclosed space. It would be natural to feel unsafe in such an area. 
Despite their hard work and effort, bus drivers do not get compensated nearly as much as they deserve.
"It is a tough job and for probably not a lot of pay," Mr. Moree said.
Despite everything that the world has thrown at the bus drivers, they remain dedicated and diligent workers. The amount of credit due to them is indescribable. 
 "Our bus drivers are awesome," Mr. Moree boasted. 
Make sure to take time out of your day to thank your bus drivers and let them know how important they are!
Leave a Comment
Donate to The Lambert Post
Your donation will help support The Lambert Post, Lambert High Schools student-run newspaper! Your contribution will allow us to purchase equipment and cover website hosting costs.