Words of Warning; Climate Change On the Rise
After 18 years of not taking a hard stance on climate change, world-renowned environmentalist Sir David Attenborough is releasing a documentary on the irreversible damage being done to the natural world on Sunday.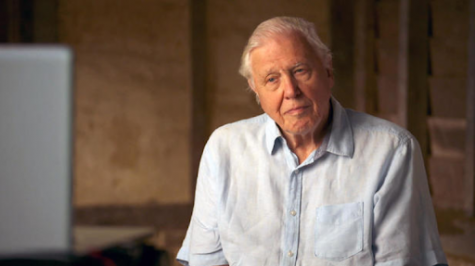 At the age of 28, Attenborough convinced his superiors at BBC to let him travel the world and document his endeavors. Falling in love with this line of work, Attenborough has been on the road ever since. 
For nearly 70 years, the Briton and his team of talented filmmakers have captured the wonders of nature for millions of television viewers to see. There is no place too remote or animal too elusive for Sir David and his team to document. 
Attenborough's extraordinary new film, "A Life On Our Planet" premieres on Netflix, October 4th. The documentary is what he calls a witness statement or in other words, his first-hand account seeing what has become of our planet. 
"And so it isn't that I enjoy saying, 'Doom, doom, doom," Attenborough said in an interview with 60 Minutes. "On the contrary, I'd much rather enjoy, take thrill, excitement, pleasure, joy, joy, joy, joy. But if you've got any sense of responsibility, you can't do that." He continues.
Sir David has witnessed the changes in the natural world more than most. Having studied geology and zoology before he embarked on his career in television, he has more insight than most.
Over the years, Attenborough has visited the Great Barrier reef a multitude of times. However, on his last visit, he was stunned by what he found. 
"We went on this reef, which I knew. And it was like a cemetery. Because all the corals– had died. They died because of a rise in temperature and acidity." Sir David said in a statement. 
The rapid rise in temperature due to global warming has spurred unprecedented natural disasters to strike our planet. Just earlier this year, Australia was devastated due to catastrophic bushfires that wiped out around half a billion animals, according to BBC News. 
Predictions for the 2020 Hurricane season stunned the science community: an estimated 25 named storms were predicted- twice the average number- due to hurricane friendly weather brought on by global warming. 
As the planet's temperature rises, desertification threatens to wipe out The Congo Rainforest in Africa. The Sahara desert is now taking huge swaths of the tropical biome. The Congo Rainforest is famous for homing gorillas, chimpanzees, and elephants however, it holds 10,000 independent species, 30 percent of which are unique to that region. 
Despite Attenborough's stark warnings about the planet's demise, he believes that it's not too late to preserve the natural world if nations come together and societies alter their behavior. Sir David's faith is placed in the upcoming generations who are forcefully advocating for the salvaging of our planet. 
"There's a huge movement around the world of people from all nations, young people who can see what is happening to the world, and demanding that their government should take action," Attenborough said. "And that's the best hope that I have."
Leave a Comment
Donate to The Lambert Post
Your donation will help support The Lambert Post, Lambert High Schools student-run newspaper! Your contribution will allow us to purchase equipment and cover website hosting costs.