29 School Shootings in 2 months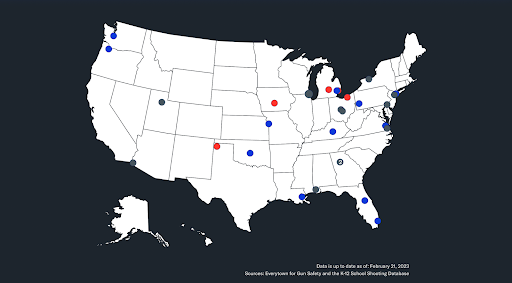 Gun violence impacts far too many families that are burdened with mental wounds for years to come. According to everytownresearch.org, there have been 29 school shootings in America that occurred in the first 2 months of 2023, and guns are the primary cause of death for children and teens in the United States. Future generations are being stolen from every day and these students deserve to go to school and not worry about coming home in a body bag. It's time voices are not only heard but listened to, and real action is taken to put an end to gun violence. 
On February 13th, a gunman opened fire at Michigan State University, killing 3 students and wounding 5 before he shot and killed himself. What many do not know is that Jackie Matthews, an MSU senior, was taken right back to her experience with gun violence as an 11-year-old survivor of the 2012 Sandy Hook shooting. Jackie Mattews took to TikTok to share her story.
"I survived the Sandy Hook Shooting, and I was hunched in the corner with my classmates for so long that I actually got a PTSD fracture … that flares up anytime I am in a stressful situation," Mattews said. "The fact that this is the second mass shooting is incomprehensible. We can no longer just provide love and prayers. It needs to be legislation."
Jackie Mattews quickly went viral and brought many to tears as her video showed the long-endured pain that American students had been facing with the persistent issue of gun violence. 
The youth has been speaking up and stepping up for the past decades to call for change, and it's time they are not ignored. After the Parkland shooting, several students organized and spoke in In March for Our Lives (2018) in Washington D.C. to advocate for gun laws and policies. While they have continued to advocate and push for legislation, no real change has been taken on a federal level to address the children dying every month. X Gonzales, a survivor of the Stoneman Douglas High School shooting in Florida, took the stage in Washington to share her story and inspire change.
"In a little over 6 minutes, 17 of our friends were taken from us, 15 were injured and everyone, absolutely everyone in the Douglas community was forever altered," X Gonzales said. "For us, long, tearful, chaotic hours in the scorching afternoon sun were spent not knowing. No one knew that the people who were missing had stopped breathing long before any of us had even known that a code red had been called."
After the Parkland Shooting in Florida in 2018, approximately 300 Lambert students joined the nation's peaceful protest against gun violence by walking out of their classrooms. Many schools stood in silence for 17 seconds to remember the 17 lives lost during the Douglas Shooting. The silence at that moment was so powerful, it was awning. 
Mental Health
These survivors and many more were inspired to advocate for change but were left with brutal scars that took the place of their loved ones. Every person that was affected by a school shooting was left with a horrific memory.
If a bullet does not kill someone, then the anxiety and the trauma of witnessing the shooting are certain to have a negative impact on their social and emotional health. According to "The Impact of Gun Violence on Children and Adolescents," young survivors of firearm-related injuries are more susceptible to mental health problems, drug use disorders and problems with school performance. Students are worrying not only about themselves but about their siblings, cousins and friends around the nation.
When all you see on your phone or TV is a tragedy, it's easy to understand why so many parents and teens are still fighting for reform and doing everything they can to prevent gun violence from becoming a norm in society.
"It is truly heartbreaking to see kids becoming statistics," Lambert junior Janice Rho said. "When you turn on the news or scroll on TikTok just to see another school that's been shot up, you can't help but think that your school is next."
Children do not need to be witnesses of a school shooting for it to impact them. With social media connecting students across the world, the harsh reality of a school shooting is becoming something students may think about on a daily basis.
Not only is mental wellness a concern for students across the nation, but many attribute the root cause of school shootings to the inaccessibility of mental health facilities. Although this is an issue on its own, the Columbia University Department of Psychiatry concluded that the correlation between mental illness and mass shootings has decreased over time. Ragy Giris, MD, says the truth is that only a very tiny percentage of mass shooters in the United States are driven by mental illness. This establishes the need to listen to the youth and take action through gun laws and restrictions. 
Unity embraces difference, and there is strength in numbers. We have the power to influence political change if we work together, regardless of whether we are Democrats or Republicans, male or female, black or white, gun owners or not. It's time we take care of our future generations.
Donate to The Lambert Post
Your donation will help support The Lambert Post, Lambert High Schools student-run newspaper! Your contribution will allow us to purchase equipment and cover website hosting costs.