Harry Styles: Album of the Year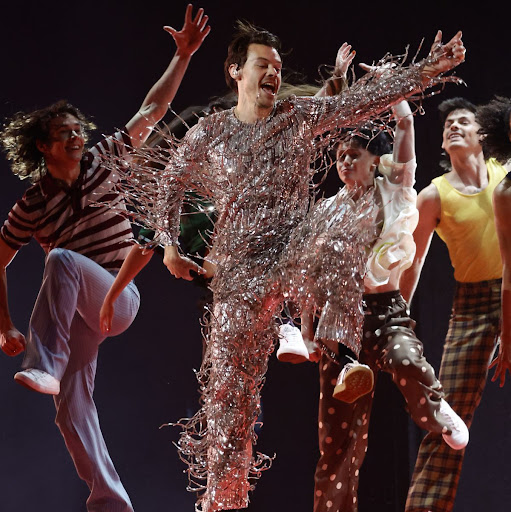 Harry Styles was everywhere in 2022. Whether it be his latest hit song on the radio, his noteworthy photo shoots or the growth of his brand 'Pleasing,' Styles was at the center of the pop culture world. At the 65th annual Grammy's Awards, he won the Album of Year for his album "Harry's House," beating out musical icons such as Beyonce, Kendrick Lamar, Adele, Bad Bunny and more. Harry Styles expressed complete happinesses after his name was announced, and he was surrounded by his friends as well as thousands of his fans watching on live television.
Not only did Harry Styles deserve to win the Album of the Year award for his creativity and compilation of his album, but also deserved it due to his hard work in pleasing fans worldwide.
This was evident through his appearance at Coachella where he performed with guests like Shania Twain and opened the night with his new song "As It Was." Then, Styles started touring with his band after the album's release in May and sold over 500,000 units (one album sale, 10 track sales or 1,500 song streams).
Although Styles' victory is widely celebrated in the music industry, some people think he doesn't truly deserve a prize as significant as Album of the Year. Many supporters posted on Twitter that they thought Beyonce ought to have won.
Even though Styles has come a long way from his boyband days, people frequently overlook the influence One Direction had while they were active. Since One Direction's indefinite hiatus began, Styles has continued to develop, gain popularity and improve as a musician, becoming a legend in his own right. This is all a result of the growth he had as a singer and performer in the band.
"Harry in particular has said from the beginning of working together, his real sort of like flag in the ground kind of moment is 'I don't wanna sound like anyone else,'" singer-songwriter Kid Harpoon told Rolling Stone. "I want people to be saying, 'that's the Harry sound.'"
Styles created an amazing work with "Harry's House" in which he incorporated a variety of music genres that aren't currently popular. While sonically referencing the '70s and '80s, the album managed to avoid sounding out of date. Bringing old and new sounds together to create a harmony that people would instantly fall in love with led to his career thriving and him winning the Album of the Year award.
Not only is "Harry's House" the second-most streamed album of 2022, right behind Bad Bunny's "Un Verano Sin Ti," but he also had the most streamed song of 2022 on Spotify. The impressive statistics and high caliber of "Harry's House" and its replay value demonstrate the influence this period had on pop culture and Styles' career.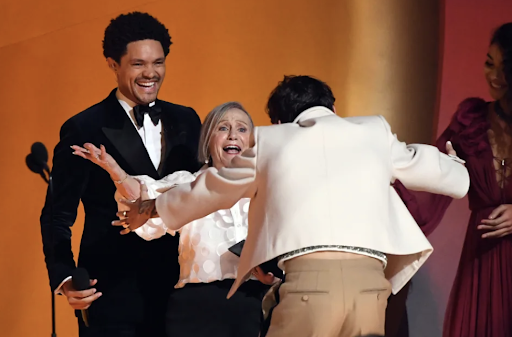 In addition to consistently releasing excellent music, he has also established himself as one of the hardest-working entertainers right now by embarking on the lengthy and packed "Love On Tour." The tour will end this summer after starting in September 2021.
"Love on Tour is quite literally the epitome of its name: a place so full of the love and joy Harry exudes, a place to sing, dance and have the time of your life, " Lambert junior Tanisha Khurana said. "It's a memory to freeze in your mind to return to."
"Love on Tour" is a thrilling experience because it combines great music, incredible production values and a fantastic atmosphere. The success of Styles' "Love On Tour" has been astounding, selling out arenas and stadiums all over the world, including 15 shows at Madison Square Garden in New York City last fall.
Styles has put in a lot of effort to earn this high honor from the Recording Academy based on these accolades alone. Although some music fans' unhappiness may stem from their love for their preferred artist, it is unfair for Styles to be singled out as a result of the Recording Academy's clearly well-informed choice.
Harry Styles has undoubtedly proven himself to be a versatile and innovative artist with a unique style and voice. Styles' songs in "Harry's House" bring heavy themes of fun, inclusivity and love through a nostalgic tone of the 70s & 80s, making it increasingly clear that his Grammy is well deserved. Harry Styles impacted the world through his revolutionary mark on music and many of his fans agree that this is just the beginning.
Donate to The Lambert Post
Your donation will help support The Lambert Post, Lambert High Schools student-run newspaper! Your contribution will allow us to purchase equipment and cover website hosting costs.