The COVID Apocalypse
Has Friday the thirteenth taken on a new identity? As most everyone knows, Covid-19 has affected our world for the worst. March 13, 2020, was the turning point for Forsyth county students due to the closing of all schools for quarantine. As the number of cases increased, it was clear that practicing social distancing was a must. At this point, everyone was in the unknown and everything about the virus was unfamiliar. That Friday of March, the virtual undertaking began. What students thought would have been the rest of the school year was not realistic at this point.
Many students and teachers have their preference for being at school or virtual school.
"I definitely did not like online school; it was very stressful and its learning was failing all the time to log me in. I also had a lot of work to do," Peyton Bailey said.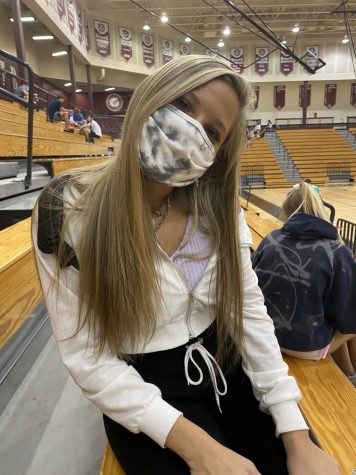 Not enjoying online school is a popular thought among most students. There is a huge difference between physical and virtual learning and a lot of students did not realize this until it became their everyday routine. 
Jordan Hill, a history teacher at Lambert, had different thoughts considering the circumstances.
"I think it is unfortunate, but our school system has a great online learning platform to still be able to connect and relay information to students," Hill stated.
 Student and teacher perspective was not the same in some cases. For the most part, it is agreed that the situation was unfavorable. After the madness during virtual school, the superintendent decided it was best to go back to school in August. 
"Will we go back to school?" was a constant question all of summer. Forsyth County Schools were scheduled to go back August 13, after being pushed back a week. Meanwhile, Cherokee County Schools attended school on August 6th. According to WSB-TV's story
"More than 2,000 Cherokee County students are in quarantine Tuesday as COVID- 19 continues to spread across the county." Soon after beginning school, Etowah, Creekview, and Woodstock temporarily closed because of the quick increase in cases.
 This could be due to students not wearing masks, not washing their hands appropriately, and not taking social distancing precautions. Coach Hill was asked if it was strange being around students nowadays because of the mask-wearing and social distancing. "No, these students chose face to face instruction therefore, I believe that they know what is expected of them and of me," Coach Hill stated. At school, it is not compulsory for students to wear masks. It is highly expected for the safety of other students and teachers that could potentially be at higher risk. By taking precautions, it could help schools stay open.
Washing hands is expected of any student, even in normal times in the world. It is vital that students stay away from each other when not wearing a mask and always wear a mask for the sake of their health and others.
"Washing hands and taking precautions could help because of touching the desks, but students are not really six feet apart," Bailey said.
She seems to understand that yes, precautions are expected and will help, but it is difficult to maintain good social distancing. As everyone knows, it was expected that cases would increase as the transition was made into classroom learning. There was only so much time before we would have to shut down again. 
As mentioned earlier, Cherokee County Schools' cases rapidly increased and they were shut down within two weeks.
"I do not think we will be in school all year. I think we have the potential to go virtual towards the middle to end of September due to the ridiculous tracing guidelines," Hill exclaimed.
She was confident in her answer that the guidelines were so uncompromising that eventually, Forsyth County Schools would be sent home soon. COVID-19 hit school systems hard. Many students and teachers have different opinions on the way people should go about learning and teaching. March 13th was a day that showed significance for the future of learning considering the conditions of the virus that changed the world forever.
Leave a Comment
Donate to The Lambert Post
Your donation will help support The Lambert Post, Lambert High Schools student-run newspaper! Your contribution will allow us to purchase equipment and cover website hosting costs.