Why Everyone Dreads the Gravel Lot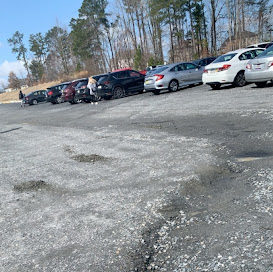 If you go to Lambert High School and drive a car, chances are you despise the gravel parking lot. Some may think that it is solely because it gets our cars dirty, but sadly the issue goes so much deeper than that.
The parking lot is basically completely eroded and in major need of maintenance. The school has neglected to address the issues that the students face parking in this lot. 
When it rains,  water collects in the pot holes and forms a stream that spreads through the entire parking lot. Trying to avoid the stream of water at 8 a.m. while rushing to class and in the process, stepping on slippery rocks is a hazard.
Heidi Harris, a fellow gravel lot parker, has many thoughts on the deplorable conditions of this lot. She has noticed some problems with this lot like many others.
"The parking lot is very rundown," Heidi stated. "I think if improvements were made and the pot holes were filled, the lot would be so much better."
Additionally, when there's early release, or even on a random morning, parents infiltrate the lot to try to avoid the long car rider line. As a result, it takes me hours to try to get out of the lot and then eventually, I have to do a dangerous maneuver to try and make it to work on time. 
In fact, I once called the front desk lady to try and solve this issue after I almost got into a wreck due to a parent. The lady answered with an attitude, and when I told her my complaint, she abruptly got off the phone with me and did not send anyone down to help solve the problem.
Everybody hates the gravel lot so much that they have started to park in other places like the gym lot. Many cars are not equipped to go over some of the potholes. Shorter cars could have their bumper knocked off when driving. Amanda Pelay, a senior at Lambert, expressed her frustrations.
"Parking in the gravel lot has been an absolute nightmare and a definite downgrade since I had the gym lot last year," Pelay exclaimed. 
Lambert needs to fix this problem soon because it is unfair for the senior lot to be in this condition and turn a blind eye. We have been at this school longer than anyone else and it's not a good feeling to know that our school does not prioritize our safety.
Leave a Comment
Donate to The Lambert Post
Your donation will help support The Lambert Post, Lambert High Schools student-run newspaper! Your contribution will allow us to purchase equipment and cover website hosting costs.