63rd Annual Grammys Fashion Recap
Everyone knows that the best part of any award show is fashion. Nothing is quite as entertaining as seeing your favorite celebrities all dressed to the nines and strutting down a red carpet. This year did not disappoint. The 63rd Annual Grammy's Awards was held on Sunday, March 14 at the Los Angeles Convention Center and featured an array of iconic celebrities flaunting their dazzling looks both in-person and virtually.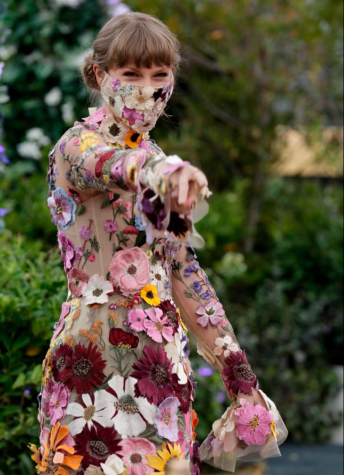 TAYLOR SWIFT
Taylor Swift had an especially successful award season with five nominations and a Grammy for Album of the Year for her album "Folklore". She arrived decked out in a floral ensemble by Oscar de la Renta. With a matching mask to boot, her outfit was serving the perfect amount of cottagecore energy. For her performance, a beautiful medley of songs from her sister albums "Folklore" and "Evermore," she donned a stunning Etro gown with shimmery streaks and a flowery pattern. Overall, I truly love Swift's whimsical style and appreciate how she maintained a floral theme for the night while still giving two completely different looks.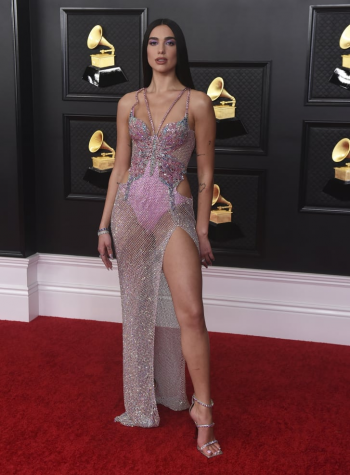 DUA LIPA
Up next is pop sensation Dua Lipa whose album "Future Nostalgia" secured her the Grammy for Best Pop Vocal Album. She was dressed in a beautiful, floor-length Versace butterfly gown. This is my personal favorite look of the night purely for its glamorous feel. Her performance outfit was a sparkly, pink matching set that gave a fun and upbeat feel to her two-song show. Throughout the night, she maintained an elegant theme of soft colors and shimmer.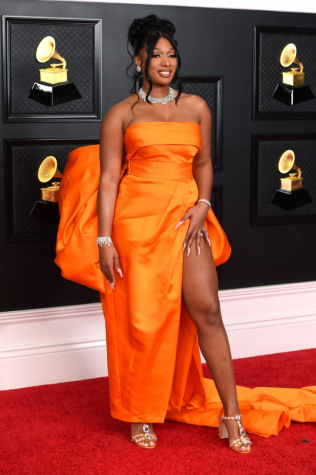 MEGAN THEE STALLION
Megan Thee Stallion donned an elegant, orange Dolce & Gabbana evening gown to her first-ever Grammys. I personally enjoy how she stepped out of the box by wearing orange, a color I feel is often neglected in awards shows. This vivid pop of color paired with sparkling silver jewelry ties together a very polished look. Winning Best New Artist, Best Rap Performance and Best Rap Song, Megan had a busy year, but still managed to serve a beautiful look on this year's red carpet.
"I wanted to pop. I wanted to look like a Grammy," Megan said.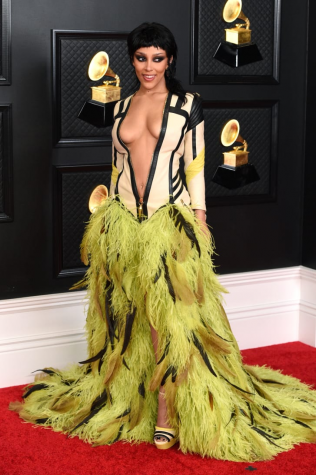 DOJA CAT
Doja Cat arrived in a unique look by Robert Cavalli which featured a zipped-down leather jacket and green feathered skirt jutting out below. Her avant-garde look received mixed reviews from the audience with some praising her daring outfit and some simply thinking it looked tacky.
"I want to be the cat lady, so let me be that," Doja Cat shared when asked about her Grammys look.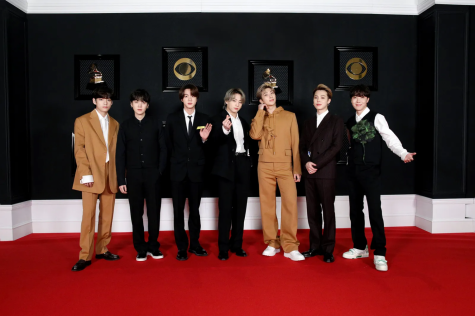 BTS
Famous Korean boyband BTS were decked out in Louis Vuitton for this year's Grammys. Maintaining a neutral color palette of black, tan, and white, their looks harmonize perfectly with each other and present a very polished look. Receiving a nomination for Best Pop Duo/Group Performance, their loss led to an enormous backlash on social media and opened up a greater discussion for the lack of diversity in the Grammys.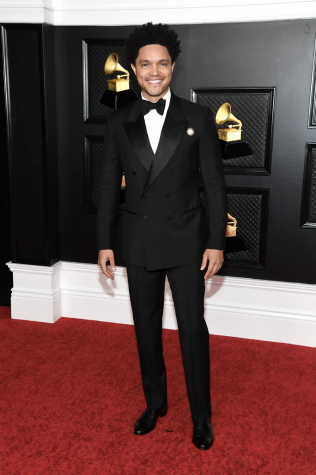 TREVOR NOAH
Trevor Noah, comedian and host of the "Daily Show", was this year's host. He opted for a custom black Gucci tuxedo and a sparkling Tiffany & Co broach. As a host, it is very important for him to present an elegant look which I feel he nailed perfectly. Although it may not be an incredibly exciting ensemble, he pulled off the timeless look with grace.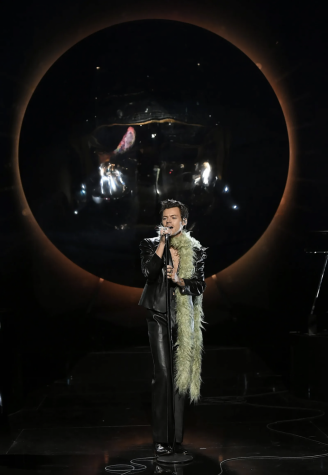 HARRY STYLES
Harry Styles opened this year's Grammys with a rendition of "Watermelon Sugar". As a well-known Gucci fanatic, it was only appropriate that he donned a gorgeous leather Gucci suit and a green feather boa. This look prompted widespread Internet searches for the Gucci boa, which retails for $1,900. I personally believe that Harry Styles can pull off any look with elegance and this one was no different. The contrast between the texture of the leather suit and fluffy boa adds a fun twist to the usual straightforwardness of men's award show fashion. Styles had a lot to celebrate as he won his first Grammy for Best Pop Solo Performance for "Watermelon Sugar".