A Georgian Contestant Makes it in 'American Idol' Auditions
As of this week, Season 19 of "American Idol" welcomes twenty-one-year-old Georgian, Willie Spence, into the competition after singing his viral rendition of "Diamonds" by Rihanna. 
As observed in his audition video posted on "American Idol's" official YouTube channel, Spence quickly impressed the ABC  judges. Luke Bryan, Katy Perry, and Lionel Richie gave the final auditions a golden ticket to Hollywood immediately after his performance, followed by an eruption of praises for his voice.
"You have demonstrated exactly what we've been looking for. You just brought the artist to the table. Honestly, you are an undeniable star. You, my friend, are so gifted. On the first note, I had chills," Critically acclaimed songwriter and fellow judge Lionel Richie gushes.
 Before the singer finished his piece, Richie was already an immediate fan shouting multiple appraisals whilst Spence flawlessly delivered multiple belts (a singing technique that means to sing loudly and with a passion) to the judges. Although the beloved judge was the first to compliment the auditioner's voice, the other judges soon joined in.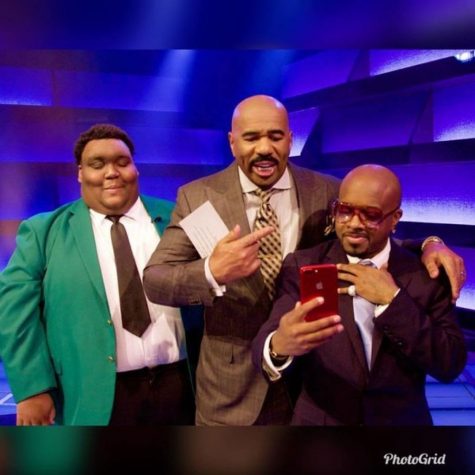 "You are a special human being. I didn't want it to end." Luke Bryan, "American Idol" Judge, and country singer extraordinaire adds.  
It was clear that all three judges were mesmerized with the Georgian's performance, but Perry was the first to ask the hard questions. 
"When you think of your future… in 5 years, in your wildest dreams, what do you want it to look like if nothing was standing in your way?" Perry asks.
To which Spence humbly shares that his goal of becoming a contestant on the hit ABC singing show is to solely share his gift with the world and set a foundation to assist in winning a Grammy one day which is his ultimate dream. 
Although the auditioner was slightly hesitant on his dream, Bryan was quick to confirm and encourage his remarks.
"That Grammy is attainable, no doubt in my mind," said the country singer. "When you start singing, I see your lifetime. I see it all."
With the judges fully behind the starlet, Spence is off to Hollywood and claims that he is most excited to make his family proud and share his passion. 
Although the budding singer's appearance on the show this week was an uplifting and positive experience, Spence shares that the journey to reach the judges was not an easy one. Just last year, the Spence had serious health complications and a diagnosis of fluid in his chest after visiting the hospital due to intense chest pain. 
 "I weighed 600 pounds. When they told me that, I knew I had to focus more on my health," Spence explains.
The singer goes on to share that he knew if he did not start taking care of himself, the dreams of a successful singing career were impossible. As of today, the vocalist proudly says that the fluid in his lungs is no longer an issue and in addition, he has lost a total of 200 pounds with the assistance of healthy eating and a personal trainer.
Before traveling across America to San Diego, California for "American Idol" auditions, Spence spent his childhood in Douglas, Georgia, and then went on to make a living as a caretaker in the metro Atlanta area today. 
If the jaw-dropping singer that received a yes from all three "American Idol" judges this week sounds familiar, it is likely that you have seen the viral video of Spence singing "Diamonds" by Rhianna with his fellow classmates three years ago at Coffee High School in Douglas Fla. With over 11 million views to date, Spence's "American Idol" audition praise wasn't his first taste of fame. The original cover of "Diamonds" (filmed by a close friend) raised acknowledgment from famous rapper Snoop Dog, R&B performer Tank, and even got the attention of talk show host Steve Harvey who invited the singer to perform the cover on national television in 2017.
From starting at three years old singing "Amazing Grace" at his grandmother's Florida Church, Spence now goes on to singing covers and writing songs on his YouTube channel that is home to over 500,000 subscribers and a collective 42 million views. 
 "I don't see myself being anything other than a singer. Music has always been a passion to me," Spence shares after being asked about his accomplishments and audition. 
With a guaranteed bright future, the Georgia resident continues to bring soul and passion to his music and is projected to make it quite far in Season 19 of "American Idol".
Not only are this season's judges big fans of the budding soul singer, Spence also has moved millions of fans at home as well.
"I got goosebumps as soon as he delivered his first note! The other competitors better watch out! I want him to win so badly!" Lambert High School senior Thia Haney says. 
To keep tabs on the young singer's progress in the competition, tune into the airing of "American Idol" every Sunday at 8 p.m. ET/PT on ABC. 
Will the Georgian foresee it to the end? It's too soon to tell. But it is a fact that Spence has an incredibly beautiful voice and is representing Georgia with flying colors.
Leave a Comment
Donate to The Lambert Post
Your donation will help support The Lambert Post, Lambert High Schools student-run newspaper! Your contribution will allow us to purchase equipment and cover website hosting costs.