"Dancing with the Devil": Demi Lovato's Upcoming Documentary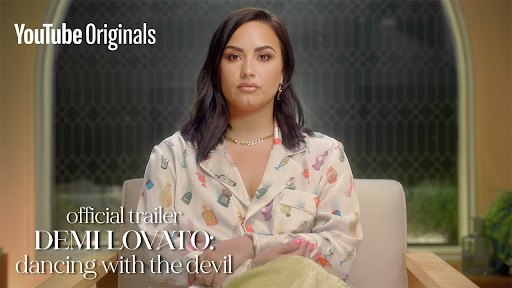 Demi Lovato announced the release of her new documentary, "Dancing with the Devil" on February 17.
Lovato is 28-years-old and has struggled with sobriety, bulimia, and her overall physical health for years.
In the trailer, Lovato mentioned, "I had three strokes, I had a heart attack." 
 The trailer dropped on Wednesday during the Virtual Television Critics Association Press Tour. The Youtube Original highlights Lovato's eventful life, including her life-threatening drug overdose and the resulting brain damage. 
"I've had a lot of lives. Like my cat, you know?" Lovato stated. "I'm on my ninth life."
Shockingly, the artist revealed that one of the effects of her heart attack is that she can no longer drive. She has blinds spots in her vision making it challenging to read and see in general. 
Aside from "Dancing With the Devil", Lovato has previously participated in two documentaries, starring in a 2012 MTV doc as well as her own 2017 documentary, "Simply Complicated", where she spoke about her unfortunate relapse in 2018 after six years of sobriety.
According to Vulture, the four-part docu-series will interview Lovato's friends and family and feature Elton John and Christina Aguilera discussing the downsides of fame. Additionally, the Los Angeles Times said that the participants of the documentary were astounded at the bluntness they were asked to share on camera. One interviewee asked, "Are we talking about heroin? Are we doing that?"
Aside from her overdose, Lovato will also elaborate on her former engagement with Max Ehrich and her recent decision to chop her hair. 
Youtube has promised to give "unprecedented access to the star's personal and musical journey during the most trying time of her life as she unearths her prior traumas and discovers the importance of her physical, emotional, and mental health."
In an interview, the "Stone Cold" singer confessed, "I'm just going to say it all, and if we don't want to use any of it, we can take it out."
The former Disney channel star is widely-respected for her openness about battling mental health. 
Nicole Moon, a freshman at Lambert High School, gave her thoughts on Lovato saying, "I've always admired her for her honesty. It's refreshing to see a celebrity be so open about her mental health instead of pretending to be perfect."
Fans love Lovato for her transparency, which is unique compared to the facade most celebrities exhibit.
The documentary is named after Lovato's new song, "Dancing with the Devil", which is faintly playing in the trailer. Both the song and series will premiere on Youtube Tuesday, March 23.
"I'm ready to get back to doing what I love, which is making music," said Lovato.
Leave a Comment
Donate to The Lambert Post
Your donation will help support The Lambert Post, Lambert High Schools student-run newspaper! Your contribution will allow us to purchase equipment and cover website hosting costs.