"Fearless (Taylor's Version)" is the Top Release of 2021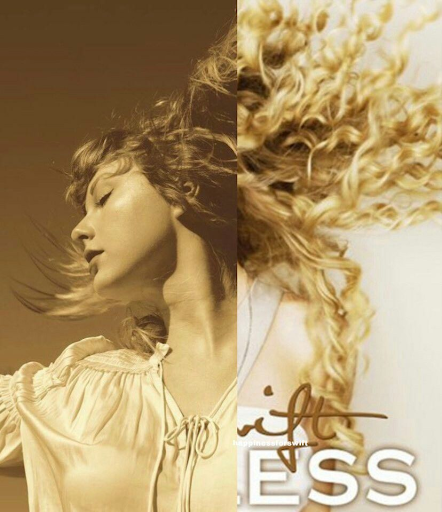 The lack of gasps in "You Belong With Me," the extra beat in "Love Story," and the slightly different wording in "Forever and Always (piano version)" are just some of the subtle differences in Taylor Swift's re-recording of her 2008 hit-album "Fearless." 
What is "Fearless"?
"Fearless" is Swift's second studio album. The country-pop album is widely praised for its emotional lyrics describing the complexities of teenage romance. Ranging from mere infatuation to true heartbreak, the title, "Fearless," encompasses the theme of the album: The Courage Required to Explore Love. 
Was "Fearless" Successful?
During its initial release, the album was immediately perceived as a hit by critics. Swift was most commonly commended for her seemingly effortless storytelling abilities. 
"Those who thought Taylor Swift was a big deal after the release of her first record should be prepared: She's about to get way bigger," Billboard's Ken Tucker wrote. "Though they're written by a teenager, Swift's songs have broad appeal, and therein lies the genius and accessibility in her second effort." 
The Fearless Tour grossed $66.5 million and selling over 12 million copies, "Fearless" is one of the best-selling albums of the 21st century. The two-time Grammy-winning album is considered Swift's "big break."
Why is Swift Re-Recording Her Masters?
Scott Borchetta is the founder of "Big Machine Label Group." This record label signed Swift under a thirteen-year contract, therefore, owning her first six albums, also known as her masters. After the expiration of the contract, Swift signed with another record label, Republic Records, in 2018. According to Swift, she was forced to leave her masters behind, saying,
 "I was given an opportunity to sign back up to Big Machine Records and 'earn' one album back at a time, one for every new one I turned in."
After Swift left Big Machine, Borchetta sold the label to Swift's former music manager, Scooter Braun.
"Never in my worst nightmares did I imagine the buyer would be Scooter," Swift said. "He's an incessant, manipulative bully."
 The new owner of Swift's music prevented Swift from performing any old songs and caused a major controversy in the media. Justin Beiber and Demi Lovato took Braun's side, while others, like Halsey and Katy Perry, defended Swift. 
After the "social media war" suppressed, Swift announced on "Good Morning America" she would be re-recording her first six albums. 
"My contract says that starting November 2020, I can record albums one through five all over again," she said. "I'm very excited about it…because I just think that artists deserve to own their work, I just feel very passionately about that."
In Swift's 2020 American Music Awards acceptance speech for Artist of the Year, she announced, 
"The reason I'm not there tonight is I'm actually re-recording all of my old music in the studio where we originally recorded it… it's been amazing and I can't wait for you to hear it."
"Fearless (Taylor's Version)"
It makes sense Swift decided to release "Fearless (Taylor's Version)" first. "Fearless" was her first No. 1 album and was her gateway to stardom. "Fearless (Taylor's Version)" also debuted No. 1 on the charts on April 9th. The re-recording features the original 13 songs on "Fearless," the six bonus songs on the reissued 2010 platinum version, and six "From The Vault" songs that were written for "Fearless," but were never recorded until now. Swift has broken almost a dozen records with "Fearless (Taylor's Version)" including "Biggest Week of 2021 by Units Earned," "Biggest Week for a Country Album Since 2015," and "First Woman With Three New No. 1 Albums in Less Than a Year."
  Taylor is currently able to re-record "Taylor Swift," "Speak Now," "Red" and "1989." Next year, she will be able to re-record "Reputation," she just has to wait five years following the original release of the album to begin. Fans suspect "1989" will be the next re-record, but Swift has yet to make any official announcement. 
Sophia Zhao, a freshman at Lambert High School, shared her thoughts on the album.
"I love Taylor's new version of Fearless. It was so fun to relive an 'old Taylor' era," Zhao said. "I cannot wait for 'Red's' release. That album carries so much intensity and heartbreak, it's my favorite."
 "Fearless (Taylor's Version)" is now available to stream on Spotify, Apple Music, and all other streaming platforms. 
Leave a Comment
Donate to The Lambert Post
Your donation will help support The Lambert Post, Lambert High Schools student-run newspaper! Your contribution will allow us to purchase equipment and cover website hosting costs.