He's back: Dave Chapelle's Age of Spin in review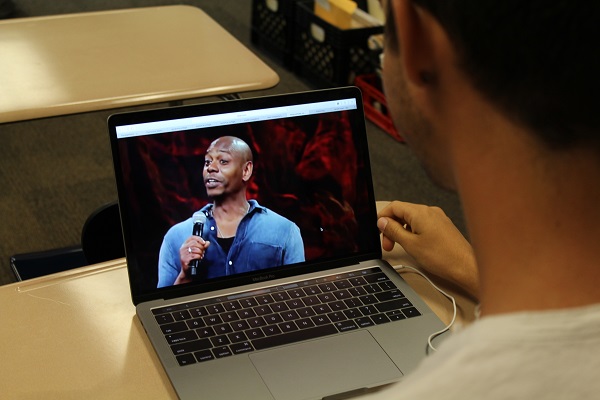 Dave Chapelle's newest Netflix comedy stand-up special has marked the comedy legend's comeback into the spotlight. Since his hit Comedy Central show ended over ten years ago, Dave Chapelle has merely brushed the surface of the American comedy scene with a few shows here and there. But his sizable audience and unmistakable stage presence gave the feeling that Dave Chappelle was back and better than ever. Relying on his refreshing comical allusions to happenings throughout the 21st century and his iconic stories (especially of the Juice), Chapelle shows that it only takes one punchline to provide a decent ab workout.
In both of his specials, The Age of Spin and Deep in The Heart of Texas, Dave Chappelle is able to give the full-on Dave Chappelle comedy experience: a stand-up show with consistent edginess and insightful social commentary typically through the medium of comical stories. But it wouldn't be anything without his real–yet opinionated–take on controversial topics that show how every joke a comic makes is not supposed to be taken to heart. From the infamous O.J. Simpson to sexual harassment to the LGBTQ movement, Chapelle comes across as a comedian that does not hold back when it comes to including topics that people might find uncomfortable.
The striking performance in The Age of Spin was one that really caught my attention in light of the current political and social aspects of the U.S. For a good chunk of the special was focused on the lives of minorities throughout America. He took a rather intriguing comparison between black folk and specific members of the LGBTQ community (i.e. transgenders, homosexuals, queer folk).
By referencing Caitlyn Jenner's transition, he was able to pass a few jokes around the transition itself; and aside from the stereotypical gay jokes that Chapelle translated into his routine–that gay people typically have a higher pitch voice than their heterosexual counterparts–Chapelle expressed a point of view that made me think about how similar the LGBTQ movement is alongside the civil rights movement. The connection was made when Chapelle was talking about how Caitlyn Jenner's transition was accepted by the public  in her rather publicized transition. Meanwhile in the civil rights movement, it took America more than 100 accept black people as equals. He termed this struggle between these two communities (two minorities) as the discrimination olympics; a phrase that I think gives justice to the more progressive, modern America.
Chappelle's "deep-water" material did not stop at illustrating of the discrimination olympics. For his jokes on sexual harassment were rather significant considering the recent President Trump and Bill Cosby scandals. He used a ludicrous story of a rapist superhero who commits sexual assault to save others from harm as an allegory for the life of Cosby, who did so much for the way African Americans are viewed in mainstream culture and entertainment.
Dave wasn't edgy the entire show. He included many stories from his life since being out of the spotlight. Dave talked about doing standup in many American cities after leaving television. He's appeared in radio and podcasts but a very little amount in television.
Leave a Comment
Donate to The Lambert Post
Your donation will help support The Lambert Post, Lambert High Schools student-run newspaper! Your contribution will allow us to purchase equipment and cover website hosting costs.