Lambert High School's Girls Golf Team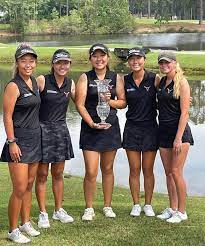 Lambert's Girls Golf Team is prestigious and well established. There is no doubt that their team is exceptional.  Last year, they won the 2021 NHSGA High School Golf National Invitational. Despite the stunning win, the steps it took for each individual player to get to that level of accomplishment and experience is immense.
Hours upon hours of commitment is just one major obstacle that each player had to overcome. Iris Cao, a senior here at Lambert who is currently a part of the team, explained the rigorous path that she took to get to her level.
"In the end, you're always going to run into hurdles in the way," Cao explained. "As long as you stay committed and keep working, you work past it."
Like any other sport, intense practice and lessons are necessary to reach high levels, but golf is on another level of private practice. Cao perceived the Lambert Girl's Golf Team as something to do for fun. The experience of traveling as a team, and as she described it, like a family. Behind the scenes, commitment and discipline to the game itself was key.
Golf may seem to be an easy sport, but in reality, it is unquestionably difficult. Coach Fortenberry, the coach for the golf team, described the meticulous dedication required to be a golfer and a part of the team.
"It looks easy to hit the little white ball sitting on the ground," Coach Fortenberry described. "[But] it can be that hard to hit. A lot of practice [is needed]."
To finish off, Coach Fortenberry's advice on being a part of the team is to have fun. Golf is already a hard enough sport, so residing in the positive aspect of golf is important. Through positivism and hard work, Lambert's Girls Golf Team will always be reaching major heights and keeping the consistency they have always had.
Leave a Comment
Donate to The Lambert Post
Your donation will help support The Lambert Post, Lambert High Schools student-run newspaper! Your contribution will allow us to purchase equipment and cover website hosting costs.