Lambert HOSA hooks State Leadership Conference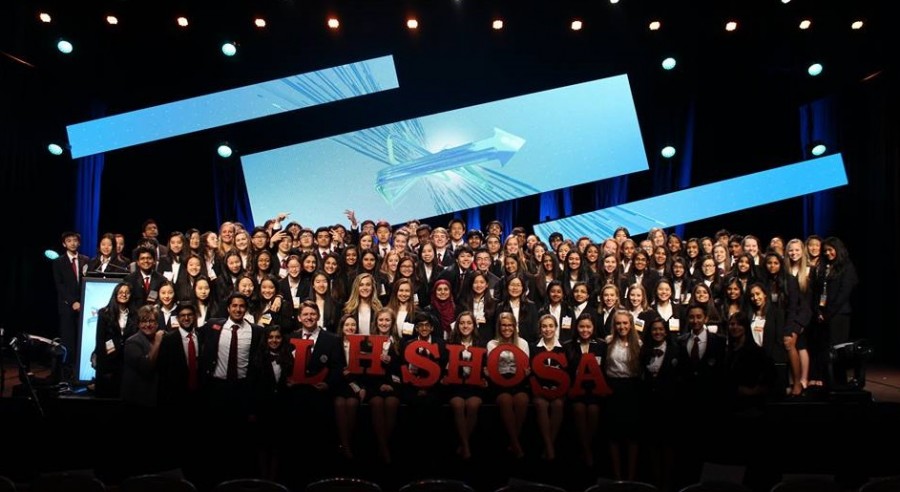 Many Lambert HOSA (Future Heath Professionals) students were gone from classes earlier this month to attend the Georgia State Leadership Conference in Atlanta for a weekend of workshops, conferences with special guests, and awards ceremonies for those who had made the past year of HOSA that much more amazing. Lambert joined over 3,400 students and hundreds of HOSA chapters from across the state in this competitive event.
Lambert students attended the conference from February 28th-March 1st, competing in various categories and taking home multiple awards. For senior HOSA members, an emotional win with a bittersweet feel. The conference included speakers from different regions and a dance that left many Snapchat stories strobing with glow sticks and club lighting.
At the conference, Lambert was recognized as being the world's largest chapter in a state, and their awards sure defended that recognition.
In total, these amazing Longhorns had over 111 students place in the conference competitions! These students will have the opportunity to represent Lambert at the international conference, held in Nashville, TN, at the end of June. Congratulations, HOSA Longhorns!
Follow Lambert HOSA on Twitter
Learn more about Georgia HOSA on their website
Barbara James Gold:
Sarth Diskalkar
Mehul Kumar
Natasha Ramaswamy
Megha Sequira
Trevor Starling
Barbara James Silver:
Sujith Abbagoni
Noora Chandasir
Nicole Mistry
Taylor Pigg
Barbara James Bronze:
Neha Balachandran
Natasha Bohra
Logan Casperson
Ashley Ko
Anchal Kumar
Chen Lin
Maya Patel
Tanya Roy
Christina Sun
Isabella Victoria
Pravin Vikram
 Behavioral Health:
4th Place:
Maya Patel
Biomedical Debate:
1st Place:
Pranith Boyapally
Shresta Dubey
Abhi Maddineini
Nina Reddy
5th Place:
Sujith Abbagoni
Jessie Chen
John Park
Jet Wang
Biomedical Laboratory Science:
2nd Place:
Elynna Chang
3rd Place:
Natalie Shi
7th Place:
Sarah Rupert
Community Awareness:
2nd Place:
Rhea Bhalla
Aline Castro
Surya Dillibabu
Yashar Kenareh
CPR/First Aid:
1st Place:
Maria Xiong
Ashley Ko
7th Place:
Amir Arad
Jay Parimi
Creative Problem Solving:
1st Place:
Claudia Crawford
Julia Mattingly
Hanna Minot
Lauren Townsend
2nd Place:
Frankie Kim
Joowon Kim
Chris Rhee
Gabrielle Soong
6th Place:
Arman Hosseini
Shahil Patel
Jas Pyneni
Kahan Parekh
7th Place:
Lauren Kim
Jack Kwon
Laura Chamblee
Tae Kim
Dental Science:
7th Place:
Pinak Rodeo
Dental Terminology:
1st Place:
Shannon Xayaraj
5th Place:
Chen Lin
Emergency Medical Technician:
7th Place:
Trevor Starling
Abraham Xiong
9th Place:
Udit Shah
Pravin Vikram
Forensic Medicine:
2nd Place:
Alison Manning
Sarah Stachura
4th Place:
Tanya Roy
Neha Balachandran
Health Career Display:
4th Place:
Danika Jaskulak-Gonzales
Elisabeth Lansden
Health Education:
2nd Place:
Mahi Patel
Callahan Thompson
3rd Place:
Khushi Gupta
Ariyana Shetty
Neha Vangimalla
Health Poster:
8th Place:
Stephanie Tian
HOSA Bowl:
10th Place:
Abigail May So
Chantel Mcarty
Ashley Srivastava
Lauren Yeap
Human Growth and Development:
3rd Place:
Anchal Kumar
4th Place:
Nicole Mistry
5th Place:
Isbah Kapadia
Medical Assisting:
5th Place:
Sanjana Reddy
6th Place:
Gouri Rajesh
Medical Law and Ethics:
4th Place:
Joanna Yan
6th Place:
Taylor Pigg
Medical Math:
6th Place:
Jake Kwon
10th Place:
Katherine Lang
Medical Reading:
3rd Place:
Christina Sun
Medical Terminology:
2nd Place:
Giwoo Kim
Nutrition:
1st Place:
Janani Guru
Pathophysiology:
8th Place:
Milan Patel
Pharmacology:
7th Place:
Atithi Patel
Physical Therapy:
8th Place:
Jack Connelly
Public Health:
1st Place:
Hailey Lombardi
Hannah Regan
Public Service Announcement:
5th Place:
Lexi Conley
Daniel Jung
Sungmin Kim
Mae McKenna
6th Place:
Eduardo Aguila
Justin Ahn
Samrath Ayinala
Sarth Diskallar
Amanda Lang
Veterinary Science:
10th Place:
Beth Wilmath