Lambert Wrestling Shattering Expectations!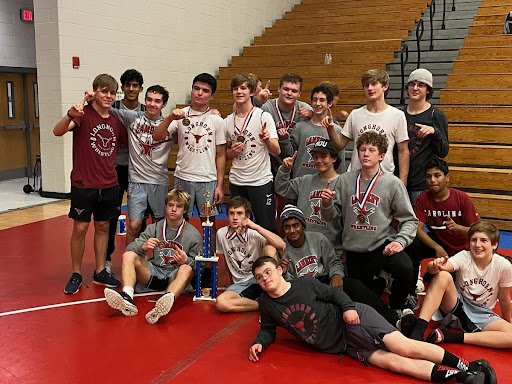 Lambert Wrestling has had an extremely strong season so far and they have fought their way into the top 8 with a good chance at a championship. They have a lot of athletes who have been with the team for quite some time as well as some strong competitors for individual state champions.
Senior Thomas Dossett had some insight on the quality of the team this year compared to previous years.
"Our team has had time to mature, but we lost [a lot of] weight classes to graduation," Dossett explained. "So our team as a whole is not the greatest. [But] as individuals, we are doing very well." 
To provide a bit of context to Dossett's statement, wrestling competitions are divided by the individual matches between athletes, but it would be a bit unfair to have a 130 pound freshman go up against a 210 pound senior. So the individual matches are made based upon weight classes, and in order for a team to have ability in big competitions they need to have some strong competitors in most weight classes (if not all of them).
Expanding on that, Dossett also conveyed his thoughts on the team's ability at the state competition this year.
"We most likely won't make it to team state [this year] as we have a few holes in our lineup," Dossett said. "[at] Individual state we should have a couple of placers and hopefully a champion."
Even with Dossetts insights the team has performed outstanding this year constantly overcoming the problems their team is finding and they have pushed themselves into the top 8 in the state and are looking at a possible championship this season.
Leave a Comment
Donate to The Lambert Post
Your donation will help support The Lambert Post, Lambert High Schools student-run newspaper! Your contribution will allow us to purchase equipment and cover website hosting costs.