Lambert's Next Gordon Ramsay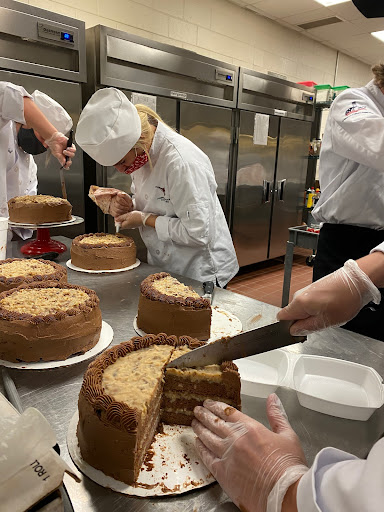 Lambert High school is a unique learning environment for many reasons, including the various academic and artistic career paths available to students. For example, Culinary fosters growth for young aspiring chefs like seniors Grace Palmer and Heidi Harris. 
Walking into school freshman year, Grace felt overwhelmed and worried about what was to come. She had always known she wanted to be a chef, which is why she signed up for the culinary pathway. Grace said she learned many different skills under Mrs. King's guidance and she said, 
"Culinary was a great outlet for me. Like to be creative with decorating or cooking and just to meet new people."
She enjoyed every minute in culinary, from the time constraints, tedious tasks and unfamiliar techniques, stating that the experience and fun she had don't compare to the struggles she faced. Palmer encourages every student who may be interested in the culinary arts to sign up- anybody can and should join.
Harris added that she made so many new friends throughout the pathway. The program has volunteer opportunities to cater and be involved in the Lambert community Students should join culinary even for basic life skills like food safety management and cooking for themselves as they move onto college and pursue their futures.
Palmer's culinary journey opened a door at Celebration Village Forsyth as a line cook. She stated she can look forward to going to work and has a kitchen full of ingredients and supplies to use her creativity.
Many students like Grace and Heidi have been inspired and motivated by the culinary program, lighting a fire that will burn bright for years to come.
Leave a Comment
Donate to The Lambert Post
Your donation will help support The Lambert Post, Lambert High Schools student-run newspaper! Your contribution will allow us to purchase equipment and cover website hosting costs.