Lambert's Quiz Bowl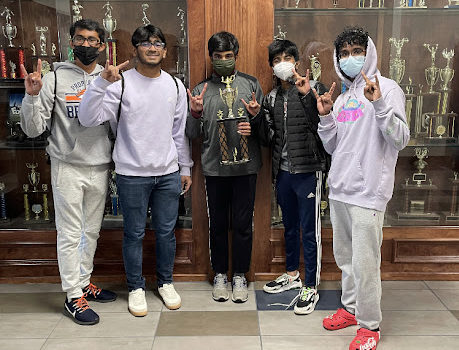 Lambert is filled with high achieving sports and notable athletes, a lot of which is often overlooked because of the vast amount we have. One such team is our number 1 nationally ranked quiz bowl team. Junior, Adi Krish had a lot to say about the team and the sport itself, first and foremost what exactly it is.
"Quiz Bowl is basically an academic competition where we all have buzzers and there are two teams and [quite simply] when you know the answer you buzz," Krish explained.
Quiz Bowl is one of the more intriguing sports at Lambert as it is a contest purely based on knowledge. In a typical game, 20 questions (also called tossups) are read by a mediator for 2 teams to go head-to-head against each other to try and get the answer first. The questions are usually rather long and presented in segments that become less and less obscure the longer it takes to answer. 
Another reason that Quiz Bowl is so interesting is the wide variety of categories that the questions can fall into. Just some of them are history, mythology, pop culture and science, but there are many more beyond that.
With such a wide range of topics, the team needs to be knowledgeable about, a large part of Quiz Bowl is the work ethic it requires. Each category has a player that specializes in that field to help the team in that region.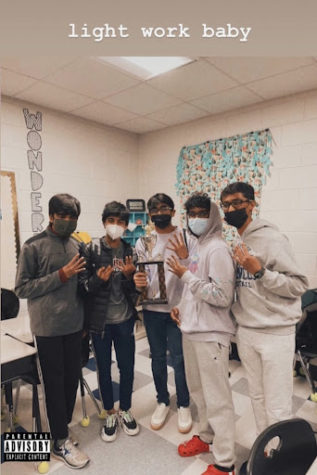 "For preparation for competitions, everyone on the team learns differently and we all have our own categories," Krish explained. "For example, if I was a literature player then I would study by reading a book; if I was a music player,I would listen to music."
Krish mentioned several other methods of study including his own. His category of focus is mythology and religion and he says that a lot of his practice entails reading different texts from the Bible to the Quran. He says it takes a lot of effort to get good at your category and be able to help the team in high-level competitions.
Speaking of those competitions, the team has been to quite a few and has even been on a TV show for a local competition that was called High Q. That event was especially memorable for the team because they blew the competition out of the water. 
Another competition that is at the forefront of the team's mind is the HSNCT (High School National Championship Tournament) nationals. One big reason for this is that the team is currently ranked number 1 in the nation and is favored to win the whole thing.
"Last year at HSNCT we placed 19th out of the 300 teams that qualified, and at Pace we placed 9th," Krish said. "This year we are trying to win the whole thing." 
But some of the best parts of Quiz Bowl are beyond the competitions and work, according to Krish, the team has a lot of control over the competitions they compete in and where they want to go. He said that one of his favorite memories with the team was at a competition in Cherokee where they were snowed in and were able to compete in a massive snowball fight between all the teams competing there. 
The team just won the Georgia varsity division 1 Quiz Bowl and now HSNCT is right around the corner and Lambert may have a national championship under our belt thanks to the Quiz Bowl team.
Leave a Comment
Donate to The Lambert Post
Your donation will help support The Lambert Post, Lambert High Schools student-run newspaper! Your contribution will allow us to purchase equipment and cover website hosting costs.