New Bollywood Action Movie: Pathaan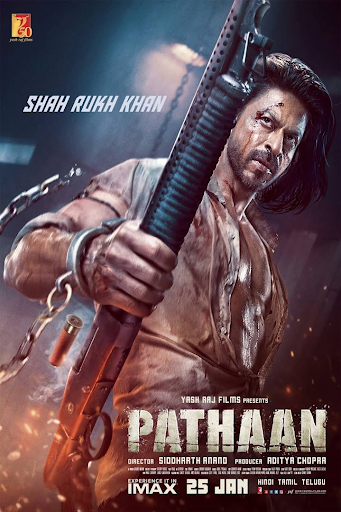 The newest Bollywood action movie, "Pathaan", has made an incredible debut worldwide. The film was so huge that it even topped Avatar: The Way of the Water, earning $3 million more on its opening day.
"Pathaan", the story of an ex-RAW (Research and Analysis Wing) agent, features exciting action sequences coupled with jaw-dropping plot twists. The agent, named Pathaan, played by actor Shah Rukh Khan, partners with multiple other agent characters as they work to stop the evil villain from releasing a deadly virus in his plot for revenge. 
The lighting and camerawork of the movie is a notch above previous Bollywood films, and it seems to be able to compete with many Hollywood films in terms of computer-generated imagery (CGI). Since the majority of the movie was filmed during lockdown, a notable amount of scenes in the movie were filmed via green screen and aided by CGI and special effects. Although patchy in some places, the visual effects during fighting and gun scenes are features that one can tell the filmmakers focused on. 
"It was definitely a big budget movie because the special effects were actually pretty good in comparison to other Indian movies," Lambert sophomore Pranav Srambikkal said. 
The budget for "Pathaan" was 250 crores rupees (INR), which roughly converts to $30.16 million (USD). The fact that the budget of the movie was evident with the high quality of CGI, and with the casting itself. The movie featured some of Bollywood's top stars: Deepika Padukone, John Abraham, Salman Khan (as the Tiger from the movie "Ek Tha Tiger") and Shah Rukh Khan, who rocked a new look for the movie with long hair.
Pathaan teams up with ex-Inter-Services Intelligence agent Rubai to take down the villain, Jim, whose virus-spreading schemes take them around the world. They fight with guns in Spain, take helicopters to Moscow, ride motorcycles in Siberia and so on, including Africa, Afghanistan, Kashmir and Delhi. The film features hand-to-hand combat, guns, knives, helicopters, motorcycles, trains, cars, explosions and more. All of these aspects make it an exhilarating action movie. 
However, while the plot of the movie was interesting, it was not something that the Bollywood audience had not seen before. Movies like "Pathaan", such as "Ek Tha Tiger" (featuring Salman Khan) and "War" have very similar storylines and character objectives. The slightly outlandish ways the characters try to fight the villain, the multiple plot twists and the theme of Indian nationalism isn't new. 
"It was pretty good," Srambikkal said. "It wasn't anything phenomenal, especially when it came to plot, it was like a James Bond copy and paste thing,…to be honest, "War" was a lot better than this, but it's not like I really hated it. I would say I enjoyed watching it but it's not gonna be something I'm gonna really remember."
There were plenty of spicy romance scenes between Rubai and "Pathaan" which would have been fine if Shah Rukh Khan was not 57 while Deepika Padukone was 37. 
"I think he's too old to be doing this romance stuff," Srambikkal said. "Or even this James Bond sort of stuff." 
Although the plot could be worked on, the action aspect of "Pathaan" is certainly top notch. The movie's success is notable as it has made an insanely large amount of money and has had a huge influence on many Bollywood fans worldwide. Hopefully, even better movies come out for them to watch and enjoy, and the Indian film industry continues to prosper.
Donate to The Lambert Post
Your donation will help support The Lambert Post, Lambert High Schools student-run newspaper! Your contribution will allow us to purchase equipment and cover website hosting costs.