Paddy Morris Commits To UNCW For Swimming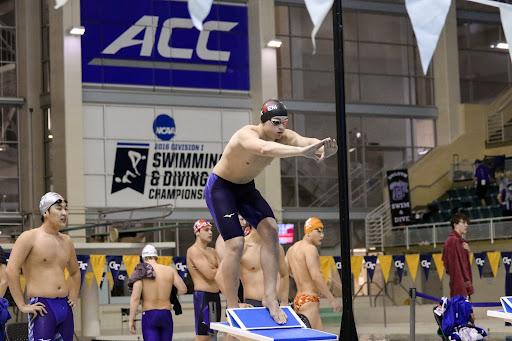 One of Lambert's continually dominant sports on the individual level is our swim and dive team, where almost every year an athlete will go collegiate. This year one of the major collegiate signings for swimming is Paddy Morris who has committed to the University of North Carolina Wilmington. 
Morris has been swimming since he was a small child and has grown up around the sport with his brother, George Morris, swimming competitively when Morris was little. George is one of his biggest inspirations and motivations as a swimmer and is who sparked his desire to swim collegiately.
"It started off with trying to beat my brother, then I beat him," Morris explained. "And then I was like, wait I kind of like this sport and then I kept going with it, I kept rocking with it, and it just became my life."
Morris mentioned that while he has been swimming for as long as he can remember he didn't seriously consider the sport as a possibility for his college career until his sophomore year. He said he had been training simply to swim his best until he almost beat his brother's personal record in the 100 freestyle (a mid 48 seconds). It was at that point he realized he could become really good at the sport and his motivation changed from wanting to get better to wanting to be the best. 
One of Morris's biggest requirements for a school to commit to was the campus. He originally wanted to find a massive division one school to go to but he found that the massive size made him feel as if he wasn't really a part of the school.
Besides his requirements for a campus that made him appreciate the beauty of the school, he was looking for a very specific type of team and coaches to take him through his collegiate career. 
"Experience," Morris stated. "I wanted a coach who had coached guys to win NCAA titles, I think with UNCW I found that. Obviously, Bobby Guntoro came from NC State, he has coached multiple guys to win NCAA titles, he has coached their team to win ACC titles, he has multiple national records under his belt."
Morris explained that one of the biggest draws of Guntoro and the rest of the coaching staff at UNCW was the evidence behind all of the claims they made to pull Morris into their team. While other coaches talked about their ability to win championships and titles both individually and as a team, Guntoro had simply already done those things and didn't need to vocalize that to convince Morris of his quality as a coach.
On top of the allure the coaching staff had for Morris, the team itself made him feel at home even just on his initial visit with the program. At the time, the 2 schools Morris was in talks of committing with were UNCW and Auburn. He found on his visit to Auburn that the greeting itself felt cold to him, because of COVID-19 regulations, he wasn't able to able to meet the coaches or the team in person when he visited, but UNCW on the other hand had the whole team and staff go out of their way to meet him. He ended up having dinner with the team during his time there and he already felt like he belonged.
As he begins his final high school season with Lambert, Morris spoke about his expectations of himself moving forward. 
"I'm not swimming for myself anymore, I am swimming for my future team and my current team," Morris explained. "I know my coaches are watching me and my future teammates are watching me and they want to see me succeed."
Morris has high hopes for his future accomplishments swimming and he surely has the ability to achieve those goals. So as his friend: Paddy you are capable of accomplishing all of your goals and I'm just waiting to see your future NCAA title. Go Seahawks!!!
Leave a Comment
Donate to The Lambert Post
Your donation will help support The Lambert Post, Lambert High Schools student-run newspaper! Your contribution will allow us to purchase equipment and cover website hosting costs.