Sports of the Union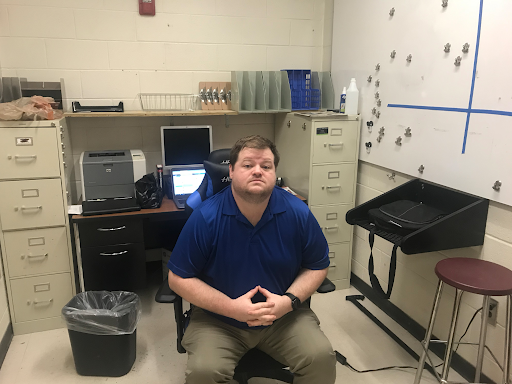 Lambert's fall sports have finally had enough time to get into a rhythm, and we have quite a list of sports to look for big accomplishments from. Everything ranging from our varsity competition cheer to our esports teams.
Thus far we have had a great start to all of our fall sports; Varsity Football is undefeated three games into the season, Cross Country has taken first place for both the boys and girls varsity as well as boys junior varsity at both the Wesleyan Invitational and The Berry College Clara Bowl Invitational meet. Softball has won 9 of their 13 games so far this season and has been undefeated since game 7.
It is needless to say that our fall sports are some of the best around, but one sport we have to look forward to based upon their consistent top-of-the-line accomplishments is our E-Sports team.
Coach Kevin Sapp is extremely excited for this season as he is looking forward to the possibilities this season has to offer. The team won four state championships last year, both "Rocket League" and "League of Legends" in both the fall and spring seasons. 
"Our students here, they really care about it," Coach Sapp said. "They realize it is a great opportunity, especially now that [the students] have seen our [team] getting scholarship money for this: everyone on our League of Legends and Rocket League team last year made over 700 dollars in scholarships."
As far as looking ahead of this year, Coach Sapp was extremely excited for the capabilities our team is likely to have this year. Our League of Legends team only had one senior graduate, so the already impressive group is more than likely looking at a year even more impressive than last year. On top of that, he also has a positive outlook on the possibilities of our rebuilt Rocket League team and the Super Smash Brothers players.
Overall our E-Sports team is looking forward to what should be a fruitful season for most of the games they compete in, and the possibility of some scholarships for our players as the sport continues to develop in high school competitions. 
Another place where Lambert sports have always excelled is within our Competition Cheerleading team. Coming off of a tumultuous season last year, the team ended up as the 7A state runner-up in their February competition. 
"In terms of expectations …we definitely are state contenders this year, I don't think there is any other way to put it," Coach Rutan said, laying out her thoughts on this season's possibilities. "We are super talented, they have worked really hard and are prepared really well."
Additionally, the team and their new coach, Mckenzie Rutan, are extremely positive moving into this season as, unlike last year, their season will revert to the normal four-month schedule, drastically reducing the stress on the athletes. 
"Fighting through four months of aches and pains is a lot easier than nine," Coach Rutan explained.
It is needless to say that Competition Cheer is going to have a great season; as they train to compete at the highest level. Their work and effort are sure to make this season extremely exciting as they once again begin their journey to a possible state championship.
Leave a Comment
Donate to The Lambert Post
Your donation will help support The Lambert Post, Lambert High Schools student-run newspaper! Your contribution will allow us to purchase equipment and cover website hosting costs.