Swifties Proclaim To Be 'All Too Unwell' After Swift's Release of Red (Taylors Version)
 On a cool autumn night when the clock struck midnight on November 12th, 2021, the world was blessed with the masterpiece that is "Red"–Taylor's Version of course. The addition of 1 hour and 6 minutes of never seen before songs and a special message from Swift, has brought the rerecording to the top of the charts.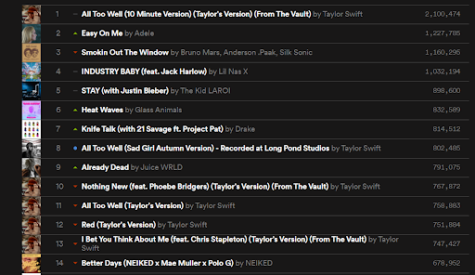 Specifically, the 10-minute version of "All Too Well,"with the addition of multiple jabs at an ex, rumored to be Jake Gyllenhall and a second bridge. 
The word choice on each line pushes the knife deeper into a young Taylor's fragile heart. 
"Did the love affair maim you, All too well?"
The word 'Maim' represents a wound that permanently damages the victim, further characterizing her heartbreak and the damage done. Through the pain and trauma caused she will never be the same.
"Did the twin flame bruise paint you blue?"
Twin flames are an extremely strong connection and can be toxic, and the imagery of being painted blue shows her wondering of the aftermath of the breakup. She was heartbroken as the album reflects, whereas she continuously mentions her doubt that the ex-boyfriend felt any regret after their relationship ended.
"But the punchline goes
'I'll get older, but your lovers stay my age' "
This quote especially villainized Jake Gyllenhall by playing off a quote in the movie "Dazed and Confused," that accurately represents most of his relationships–that generally contain a huge gap in age.
"You kept me like a secret
But I kept you like an oath"
Again the recurring theme of a one-sided relationship. A secret suggests shame or fear whereas an oath is a promise. In this case, a promise to love him and be with him whereas he couldn't reciprocate the promise.
The passion of her fanbase has shot each new song up the charts, showing their support from Lambert. Specifically at Lambert, many students self-identify as Swifties and were eager to share their opinions with the Post.
 Senior, Trinity Chung and Junior, Lily Gabsa were both able to agree that the ten-minute version of  "All Too Well" is their favorite song on the re-recorded album. The album transcends heartbreak and enters a coming of age nostalgic feeling they explained. Madi Stevens, a Junior at Lambert, chimed in to say,
"I became a fan when I was little listening to her country," said Stevens ",if I ever needed a song to sing in the shower, or to fall asleep crying to, I had her songs"
Gabsa was passionate ,specifically about Swift's rights to the master recordings and explained its importance, 
"With these new recordings, she can finally profit off of them…she can finally own her own music," Gabsa stated. 
Chung explained that the re-recordings are bigger than Swift, and they represent a larger power move so that, 
"Companies can't dangle their power in front of their artist's faces, but instead the artist can see the benefits from their own work that they rightfully deserve.", said Chung 
The amount of barriers Swift is breaking seems like a risk, but she has only continued to succeed. Indie Folk singer songwriter, Phoebe Bridgers, is the first woman to have a full verse on a song by Swift, partnering for the saddest song of the year, "Nothing New." The artist is featured for all of 120 seconds, whereas Kendrick Lamar was given 45 seconds in "Bad Blood," according to Newsweek. Bridgers has gained extensive traction over the last year with a similar audience to Swift's; all the more reason for this history-making collaboration.
Sharing the microphone was not the only change made, but Swift also opted out for a film camera and sat on the other side– in the director's chair for a change.  Swift directed a short film starring "Stranger Things" star, Sadie Sink and "Teen Wolf" heartthrob, Dylan O'brien. 
The short film tragically displays the trauma and gaslighting many know, all too well.  The film is divided between 7 different chapters representing the beginning, during and after the toxic relationship.
"An Upstate Escape" : showing general happiness between the two stars hiking and driving as the commonly mentioned 'fall leaves' dance around them.

"The First Crack In the Glass" : O'brien's character has dinner with Sink and some old friends as later revealed. Sink reaches for his hand and he moves hers over and pats it as if to say stay there. Obviously infuriated, she shows her feelings and an argument ensues in which he manipulates her into feeling embarrassed and she cries and apologizes. This moment reveals their age difference as her wine glass was full while all the others were almost empty, showing she was uncomfortable with drinking alcohol and in the argument she explains everyone was older than her and she felt excluded.

"Are you Real?" : The next stage of pure bliss where Sink's character is glowing with happiness and grinning from ear to ear in each frame. This stage highlights the honeymoon stage for the couple and the feeling of disbelief felt with a first love.

"The Breaking Point" : a silent but overwhelming moment with the melody painting the scene then suggesting the two were "lost in translation." Sink kneels at O'briens feet and he refuses to face her as she screams and cries to talk to her. This scene closes and follows with a scene of Sink grieving the loss of her love. The following scenes depict a party with many older adults and her 21st birthday party; this section is still categorized as the breaking point, but further details the immediate life without him.

"The Reeling" : As Sink blows out the candles on her 21st birthday, the scene transitions to her laying in bed, tossing and turning. This section displays the healing of acceptance and begins to introduce the idea of acceptance. The sadness still creeps in at times, but it's less about him and more about finding her old self again as the lyrics describe. 

"The remembering" : Memory is used over and over throughout the lyrics specifically to declare that she remembers and so does he. She was not the crazy ex, but she was in love, and he broke her heart. "The Remembering" represents the respect you have for the good times you spent with someone even if they feel long gone, and for that, this chapter feels the most painful. This chapter also shifts to Brandon's (O'brien's) point of view. His sad eyes follow his footsteps along the sidewalk as if he has no real destination, 

"Thirteen Years Gone" : Swift finally appears, now older and with crimson toned hair to match that of Sink's who played her younger-self.  She appears at a book signing selling her book, "All Too Well" and the moment wraps itself into a bright red bow as Brandon steps into frame watching her read–wearing a scarf. 
In the eyes of most fans, the short-film was nothing short of a masterpiece. The melodramatic aura and autumn leaves falling (like pieces into place) left no room for disappointment. All together, "Red (Taylor's Version)" was a feat in itself, but as we all know Swift keeps herself busy, even during a pandemic. These past few weeks resembled 2020 when Swift released "Lover", then "Folklore", "Evermore", and "Fearless (Taylor's Version)". Swift is eager and leaves no detail spared; "Red (Taylor's Version)" reflects someone who has always been happy, free, confused and lonely at the same time, even 9 years later we remember it all too well.
View Comments (2)
Donate to The Lambert Post
Your donation will help support The Lambert Post, Lambert High Schools student-run newspaper! Your contribution will allow us to purchase equipment and cover website hosting costs.