Coach Schneider: Moving On, College and Careers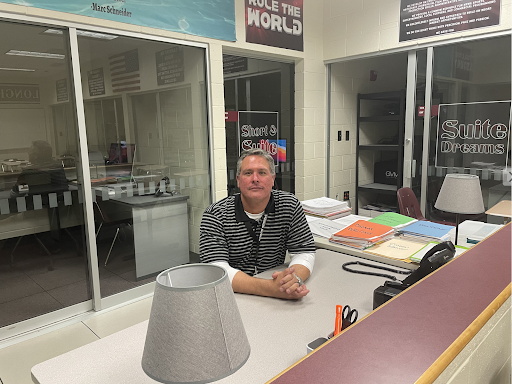 Coach Marc Schneider, a Lambert teacher and football coach, is the epitome of following his heart and investing in his passions. 
Schneider's journey began at Fairleigh Dickinson University in New Jersey where he played football before his career was cut short due to injury. He went into college as an undecided major, but still had aspirations about what he wanted to do with his life. At dinner with his parents the night before the first day of school, he announced his plans to become a teacher. 
Throughout his freshman year at Fairleigh Dickinson University (FDU), he decided that FDU wasn't right for him. He felt that his time there was stagnant, and he was ready for a change. 
"It was a beautiful campus, it just wasn't great for me," Schneider explained. 
Schneider transferred to Seton Hall University in New Jersey where he found the student residency was full. With limited options, Schneider decided to attend Ocean County College as he didn't want to miss a year of school.
One year later Schneider transferred to Rutgers University to major in accounting. For the duration of his time at Rutgers, he felt trapped in New Jersey and started looking at Florida for college. 
With high ambitions, Schneider transferred once more to Florida State University for accounting. It was then that he realized that film was something that he wanted to pursue. Schneider often found himself sitting across from the film school at Florida State writing his own screenplays. He took a five-year gap from school to work in the restaurant industry while channeling his creativity through writing his own screenplay. He was tempted by Atlanta, one of the biggest cities for the film industry, and he transferred to Georgia State University as a result. 
As all writers do, Schneider reached writer's block and became frustrated in the writing process of his screenplay. He took the only copy of his screenplay and threw it in the dumpster behind his apartment. Within a few hours, a discombobulated Schneider was peering into the dumpster to find his screenplay. 
"That picture will never leave my mind as long as I live, reaching into a dumpster for a screenplay," Schneider chuckled.
At Georgia State, he majored in film and journalism, where he was able to write some exceptional material. During this time Schneider would visit the CNN center often, and he became motivated by their productions. 
"I was inspired by the television side first from an actual job standpoint because film was something that you watched in your free time," Schneider expressed. 
Schneider received an entry-level job at CNN, immediately following college. He was able to learn about the industry at an accelerated pace and worked through the highs and lows of the film industry. 
One of the most important things that he would learn is "the most popular word in television is no."Getting his ideas rejected from HBO, FOX, TBS and NBC, was both the best and the worst part of television for him. 
"You just have to keep fighting the good fight," Schneider said. "Keep fighting, and you're going to get rejected… I've been rejected a lot."
As Schneider became increasingly busy with his family and career, he decided to start working night shifts at CNN. He would work all night, come home at 6 A.M and watch his kids until 5 P.M when he would go back to work. 
Schneider quickly became burnt out and was drained because of his sleepless routine. He reached his breaking point when he was driving home one night and fell asleep, totaling his car and almost ending his life. 
"At 2 A.M. I hit the guardrail and totaled my car," Schneider said. "My wife looked me in the eyes and said 'You need to get [out of this job].'"
After the accident, he decided to leave CNN. Schneider took a new job as a physical education teacher at his children's pre-school. He taught these young kids for five years and many of them attend Lambert now.
"I got my teaching legs under me in a crazy way, with little kids," Schneider said.
After getting his start in teaching, Schneider wanted to use his new abilities to teach and coach at the college level. Georgia State had just started a football program and Schneider was determined to coach for their program. 
With his ambition driving him, Schneider coached at Georgia State for two years. He fulfilled his dream by working at Georgia State, working with his idol Bill Curry and coaching a sport he loves.
Nearing the end of his second year at Georgia State, he was informed that Cambridge High School needed a film teacher. Schneider started the film program in Fulton County where they won several Student Production Awards from the National Academy of Television Arts and Sciences. 
Still, throughout all his time in different locations and professions, he was drawn to Lambert for its unique community. He started working at Lambert in 2017, as a marketing teacher and a football coach. Now, he currently teaches film in addition to coaching. 
Schneider is an incredible teacher and is known for his student-focused environment. His teaching style caters to the film industry, allowing students to learn about the real world and how to navigate through life situations. He emphasized fun and replicates the fast-paced and unpredictable situations in the film industry.
"My class is like trying to land a plane with one wing," Schneider joked. 
Schneider never expected he would be teaching, or even doing anything related to film for a living.
"The funny thing was back when I was younger I wanted to do both," Schneider remarked.
Currently, Schneider is challenging himself once again and will be leaving Lambert at the end of the school year. Lambert will miss him but has no doubts he will flourish wherever he goes.
Leave a Comment
Donate to The Lambert Post
Your donation will help support The Lambert Post, Lambert High Schools student-run newspaper! Your contribution will allow us to purchase equipment and cover website hosting costs.