Katie Sulko's Presentation on 'The Power of Inclusion of Exceptional Students'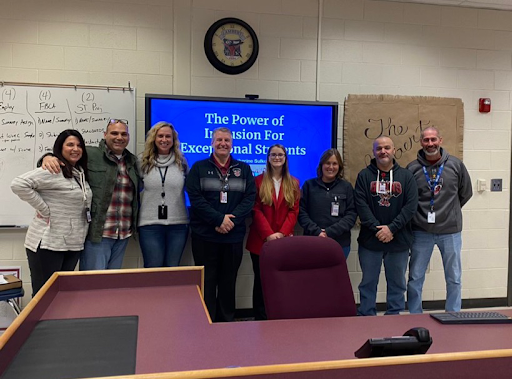 Lambert Peer Facilitator and inclusion learning advocate Katie Sulko is a junior with a mission to spread the importance of Peer Facilitation in schools.
In 2010, the exceptional student teacher Ms. Nicolleti created the peer facilitation class for students to work with their exceptional peers, students who are differently-abled, on enhancing their academic, life and social skills. Exceptional students actively participate in school productions, athletics and clubs. Lambert's exceptional students handmake Duck Quackers, a dog treat.  They use that money to pay money for their Quacker expenses and to donate to the Humane Society.
Katie's journey to becoming a Peer Facilitator started with her relationship with her best friend's little brother, Sam, who is deaf and has Down syndrome. She explained that they have a connection and would always find a way to communicate and have fun.  
In middle school, she was introduced to other individuals with special needs through volunteering at her church and attending the Special Olympics. 
As she was preparing for high school, Katie hoped to continue her volunteer work with exceptional students. She was thrilled to learn about the Peer Facilitation program at Lambert. 
"As soon as I heard, coming into high school, they had a program where I could help other kids who were like Sam, I was like, 'why wouldn't I want to?'" Katie said. "I love playing around and hanging out with him. It's gonna be like the same thing."
As an underclassman, Katie was heavily involved in the exceptional student classroom. At the start of the 2022-2023 school year, Katie officially became a peer facilitator.
Katie's experiences in the exceptional student environment inspired her in her ventures in Family Career and Community Leaders of America (FCCLA). Katie is an FCCLA officer and is committed to helping her community. In the upcoming Spring FCCLA conference Katie is presenting a project on "The Power of Inclusion of Exceptional Students" for her Student Taking Action with Recognition (STAR) event.
Katie determined that expansive inclusion learning is vital to the advancement of exceptional student programs. Through her extensive research, she has found that inclusion enhances exceptional students' social skills, increases their achievement and expands Access curriculum, a modified curriculum for students who are differently-abled. 
"I've learned so much about how it has helped them in school and outside of school," Katie stated. "They have become more outgoing, and they've just grown so much."
On January 28th, Katie presented her FCCLA project to Lambert administration for feedback. She is determined to showcase a compelling project in hopes that more schools will continue to increase inclusive opportunities for all students by incorporating peer facilitation programs.  
Katie will be presenting her final project at the FCCLA competition on February 11th. The Lambert community is excited for her contribution and hopes that Katie's STAR Event will increase awareness of the impact of Peer Facilitation and the friendships that form.
Donate to The Lambert Post
Your donation will help support The Lambert Post, Lambert High Schools student-run newspaper! Your contribution will allow us to purchase equipment and cover website hosting costs.