Picking the Brain of Coach Roberts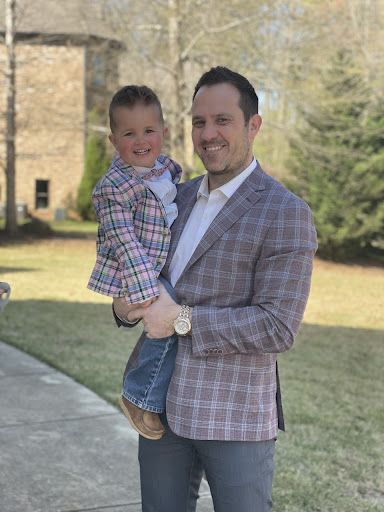 Coach Roberts teaches computer science in a classroom that is plastered with University of Mississippi memorabilia and posters. His dynamic personality turns an objectively boring subject into an undertaking that promotes development. Coach Roberts sets himself apart from other teachers by creating unique relations between him and his students that he believes enhance the learning experience. 
With a calling to serve others, Roberts knew he wanted to be a teacher since he was in high school. He didn't know where he wanted to attend college, but he knew he wanted to play football. 
"I couldn't figure out what it was that I wanted to do and beyond that, I wanted to play college athletics," Roberts said. 
Coach Roberts' college experience was distinguishable as he transferred between four colleges before he landed with the University of Mississippi. He started at the University of Nebraska, transferred to the University of Colorado, and took some community college classes before he had a preferred walk-on to play football for Valdosta State in Georgia. Current UGA head coach, Kirby Smart, was Roberts' coach at Valdosta State. His hopes for a football career were crushed when he sustained a career-ending back injury requiring surgery. Coach Roberts' extensive football experience was the basis for his decade as a coach.
His final destination at the University of Mississippi was serendipitous as he met his wife, who he married on campus at Oak Grove. 
When talking about his strong connection to the school, he said, "[It was] sort of the finale of the culmination of everything." He continued, "it's where I felt a connection to the university."
He finally felt a sense of achievement and relief. It's challenging to find many alumni with such a strong sense of pride in their school as Coach Roberts.
After Coach Roberts' rollercoaster of a college career, he went into working in the business industry. He always felt a strong connection to education as a career. When the economy tanked in 2008, he decided to transition completely from working in the industry to working in education by taking the GACE exam. Foreshadowing his future in the Forsyth County school system, he ended up taking the exam at Forsyth Central High School. He began teaching and coaching football in Cobb County. 
Outside of school, Coach Roberts has a family and his own marketing business. As he manages to accommodate the many moving parts in his life, he values his career in education.
"I still want to be part of education because it's my passion to work with students," Roberts said.
As technology becomes more prevalent in students' lives, it becomes a constant battle for teachers to gain their attention. Roberts sees students' new need for entertaining teaching styles as a way to develop unique connections with his students. He uses humor and sarcasm and extends olive branches to students in order to gain their trust by trying to relate to students and understand what they're interested in. Students, like Riya Jegajeevan, recognize his efforts and appreciate his quirky personality. 
"My favorite thing about coach Roberts is probably his sense of humor," Jegajeevan said. "Regardless of if he or anyone else is having a bad day, he always makes us laugh."
Also certified as a math teacher, Roberts has a strong background in mathematics and algorithms. The combination of his background in business and math enables his class to function smoothly and efficiently. He feels that the direction of the industry is turning to computer science and wants to make sure that he is able to give students the necessary tools needed to prosper in their future careers. 
"I want to equip the next generation with the tools to be successful," Roberts said. "Particularly the tools to be able to teach yourself how to do things because that spurs the next generation of entrepreneurs."
Coach Roberts has a passion for teaching which stems from his desire to help others and to develop business-minded individuals. Lambert is glad to have a teacher like Coach Roberts and is thankful for his contributions to the learning environment.
View Comments (1)
Donate to The Lambert Post
Your donation will help support The Lambert Post, Lambert High Schools student-run newspaper! Your contribution will allow us to purchase equipment and cover website hosting costs.