Ria Panneer: The Letter That Got Her On the New York Times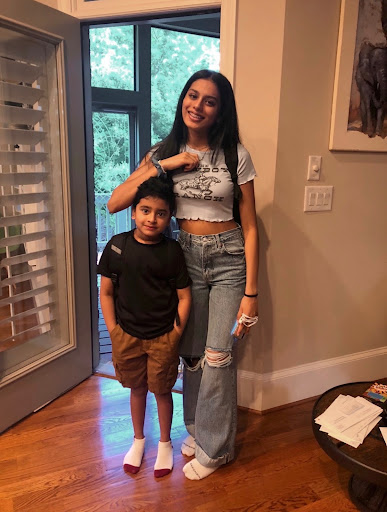 "Sometimes what it really feels like is that my life only really started after you were born," Ria wrote in a letter to her brother.
The New York Times frequently hosts writing contests that encourage writers to submit their work for feedback and, hopefully, have their work featured on the New York Times website. Ria Panneer is a Junior at Lambert High School and is passionate about writing about love and intense emotions. 
When she stumbled upon a New York Times personal narrative contest with the prompt to "Put your closest bond that you've created in your entire life into words," she knew what she had to do. She quickly wrote the narrative within a day of finding the contest and submitted it a week and a half later after editing it. Expecting nothing to come from it, Ria was stunned when she found out that her love and admiration for her little brother, Aryan, was something that a major news publication was interested in showcasing to their millions of readers. 
"It's just the relationship I have with [Aryan] and the age gap created this very particular dynamic that inspires a lot of my writing," Ria said. 
Ria's bond with Aryan is unlike other sibling bonds because they are separated by a ten-year age gap as Ria is 16 and Aryan is six. While age gaps can be destructive to the closeness between siblings, Ria and Aryan are closer than most. 
Ria was ten when she found out she would be getting a little brother. Like any other only child, she was initially distraught at the thought of sharing attention with her new sibling. Her outlook completely flipped when Aryan came into the world.
Ria's father's job brought the Panneer family to Switzerland for three years when they welcomed Aryan into the world. Switzerland's healthcare system allows extended maternity and paternity leave for parents along with the allowance of three weeks for siblings to stay home with the parents and newborn. Ria has fond memories of their time in Switzerland even though it only lasted a year before they moved back to the states. 
"We were all just this little family at home for so long," Ria said. "It was so nice."
When she saw the prompt that asked her to verbalize her closest bond, there was no doubt in her mind that she would choose to write about her relationship with her little brother. There was no specified format for the writing, but she chose to write a letter because it felt more direct and personal. A day after she read about the contest, she was itching to start writing and finished the first draft in an hour. 
When Ria found out she won the contest in January, she told Aryan that she won the contest and that he could read it, but may not understand it. The letter deals with some heavy, complex details that may be hard for a six-year-old to grasp, but he was persistent to read it. After 20 minutes of pure concentration, he understood as much as a six-year-old could understand, but most importantly, he knew the main idea of the letter was that his big sister loves him and would always be there for him. She plans on making it a point to have him read it again when he is older and can appreciate it more. 
"We don't share the same interests," Ria said. "But I'm watching him go through all the phases I went through so I can share all I learned with him."
You can read the final draft at this link, but make sure to read her letter in the New York Times in October 2022!
Leave a Comment
Donate to The Lambert Post
Your donation will help support The Lambert Post, Lambert High Schools student-run newspaper! Your contribution will allow us to purchase equipment and cover website hosting costs.