Shooting for the Stars: Ishita Chintala & The Astronomy Club
"Astronomy is the branch of science that studies the universe, the stars and the planets," The Student reports. "Astronomy combines aspects of maths and physics to study how the universe was formed and the celestial bodies that are contained within it."
Lambert High School junior, Ishita Chintala, is an astronomy fanatic. 
For as long as Chintala can remember, she has been passionate about everything in the universe beyond Earth's atmosphere. This year, Chintala is studying AP Physics to further her interest in space phenomena, and, recently, she recognized that astronomy is a relatively underrated concentration of science at Lambert. As a solution, Chintala started the Astronomy Club this past August.
"I noticed there weren't many opportunities to learn about astronomy, and I knew several students who were also interested in it," Chintala explained. 
She wanted to gather all Lambert students interested in astronomy at Lambert in one classroom so they could share ideas, listen to guest speakers and participate in competitions. 
Despite the challenges of COVID, the newly found astronomy club interviewed guest speaker, Dr. Sebastien Lepine, Georgia State University's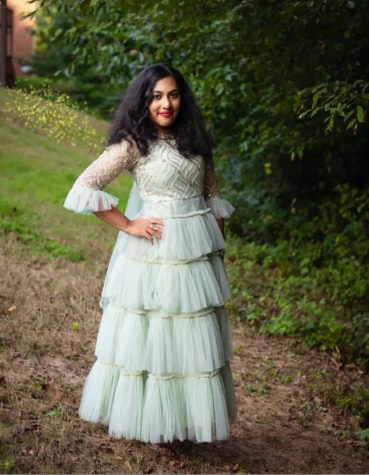 Physics and Astronomy Department Chair, via Google Meet. They also listened to a presentation from an amateur astronomer about the paths of pursuing astronomy recreationally versus professionally. 
Aside from the Astronomy Club, Chintala co-founded a blog titled "Midnight Eclipse" with her friend, Pavneet Kaur. Its mission is to educate 7th-12th graders about astronomy, astrophysics, astrochemistry and astrobiology in 2-3 minute posts. Their articles are released every other Monday and can be accessed here.
Astronomy Club Founder and President, Chintala, aspires to raise enough money to host a field trip before she graduates.
"I would love to visit the space centers in Texas or Florida," she expressed. "It would be so much fun to tour them with fellow club members."
She prides herself on listening to the opinions of her club members in order to promote creative ideas and new activities. Chintala even designed a survey to get her members' feedback for the upcoming year.
"The Astronomy Club is full of amazing and friendly people," she exclaimed. "It's a really fun learning environment that I think anyone who likes astronomy would love."
For more about the Astronomy Club, click here.
Leave a Comment
Donate to The Lambert Post
Your donation will help support The Lambert Post, Lambert High Schools student-run newspaper! Your contribution will allow us to purchase equipment and cover website hosting costs.