An Overcrowded Lambert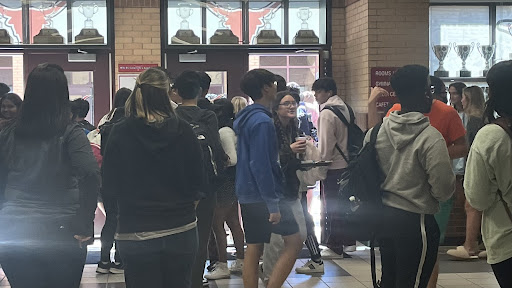 Most students are aware that Lambert High School has an extremely large student body With over 3,000 students fighting in the halls, being late to class or even bumped around during class change is an inevitable result. While the crowd is great for having larger groups of friends, it does raise the issue of getting from point A to point B.
According to Assistant Principal Mr. Meinberg, "We are the biggest high school in Forsyth County." He continued, "In terms of enrollment, I'm not sure what our square footage is compared to the others, but I know we have less space than other schools."
Meinburg explained his thoughts of the crowd and what he thinks can be done to decrease the amount  of large groups in tight spaces.
"Where this year we're 10 minutes, in years past we've been six minutes," he explained. "We've been, you know, less than that even. So adding the transition time between classes we hoped would help a little bit. I can give you my perspective,"it's helped very little In terms of Lunch & Learn specifically, I think we need to have outdoor classroom areas or outdoor seating I should say, not classrooms. We've discussed that, but again, that involves money."
"Okay. I do think it is, especially like in the halls, I think the classrooms have way too many kids in it to be learning at one time," Senior Carolina Sanchez said. "It's hard, especially for teachers to focus on one student if there's like 30 kids in the class at least.It kind of sucks because, even though my first three classes are bunched together, the traffic of students in the hall for me to get from my first class to my second-period class on time sucks."
"If our numbers are making it so that Lunch & Learn is not manageable anymore, then we need to make some changes to what we expect for lunch and learn because if we just institute a whole bunch of little rules on the huge number of students that are in the hallway it just drives them out of the hallways," English teacher Ms. Halter explained. "But when they're eating all over the floor, all over the place (sic) and leaving their trash and their mess, they're gonna lose Lunch & Learn. So we need to figure out how our increasing numbers are impacting our Lunch & Learn program and adjust accordingly."
 The staff constantly works to make our school as clean as it can be,  while also maintaining a budget so that the 3,011 students enrolled will have plenty of valuable opportunities.
Donate to The Lambert Post
Your donation will help support The Lambert Post, Lambert High Schools student-run newspaper! Your contribution will allow us to purchase equipment and cover website hosting costs.