DeVos V.S. Woods: Standardized Testing Plans for 2021
Although on September 3rd of 2020, Betsy DeVos (The United States Secretary of Education) announced that the Trump Administration is requiring standardized testing to be mandatory despite Georgia's waiver form, Richard Woods (The Georgia School Superintendent) is continuing to argue for less impact of the state assessment on student grades for this year.
The question of state testing's effectiveness began surfacing this past March in response to the early phases of coronavirus. Up to this point, the assessments had been scheduled each year without hesitation in order to provide statistical data concerning each student's mastery of standards taught throughout the semesters. So during the mass uncertainty in March, Georgia (being the first) along with a group of other states decided to send in waivers requesting the removal of standardized testing for the 2019-2020 school year. Although the testing materials had already been prepaid, the waivers were approved promoting the release of similar waivers for this school year as well. Because of the continual battle with COVID-19 and new school stressors such as online learning and quarantine rules, many states were in favor of bypassing standardized testing once more.
Richard Woods proclaimed that the decision to write another waiver setting aside government tests for a second school year was essential because the coronavirus has created so many altercations for students and teachers resulting in too many unknown factors to create accurate calculations of intellectual progress matched in previous years of examination. Georgia along with many other states such as Florida, Colorado, and Indiana to name a few, participated in the waiver submissions for the 2020 school year.
Despite multiple states requesting the cancellation of standardized testing to avoid unnecessary stress and potentially inaccurate testing results, US. Education Secretary Besty DeVos confirmed early September that state leaders of education should "not anticipate" the waivers being granted twice. As later discovered, state testing was indeed implemented so schools were able to identify pupils who required additional educational support and so parents could assess their child's performance despite uncertainties related to the pandemic.
Richard Woods responded furiously to Betsy DeVos and the Trump Administration's decision to follow through with this year's state testing regardless of the new classroom challenges. 
 "At a time when our economic outlook is still shaky and millions of dollars are having to be cut from our classrooms, why divert millions to high-stakes tests?" 
Not only did the Georgia School Superintendent disapprove of the cost to administer a government test,  but the education leader believed the decision "shows a complete disconnect with the realities of the classroom" as confirmed by Washington Examiner
After further discussion, Richard Woods claimed that he will follow federal law but is determined to ensure that students won't experience extreme amounts of anxiety or worry  because of the assessment.  To rule out all stressors connected with testing, Woods has proposed that Georgia's state test for the year 2020-2021 will only count towards 0.01% of the student's final grade. Although state school board members strongly disagreed with the proposition resulting in Georgia's 12 congressional districts rejecting the proposal, a public hearing is to receive feedback from parents before completely dismissing the notion. 
"To our districts, families, educators, and students: don't worry about the tests," Woods addresses September third. "Given the unique environment we are in, they are neither valid nor reliable measures of academic progress or achievement" Richard Woods promises Georgians.
In response to Richard Woods' strong disapproval along with other surrounding states, DeVos exclaims that state testing is of utmost regard and further supports her belief in a letter she wrote addresses on September third.
 "The data from assessments can help inform personalized support to children based on their individual needs and provide transparency about their progress…are among the most reliable tools available to help us understand how children are performing in school." 
As hinted in her letter, Betsy DeVos strongly believes that standardized testing is the only tool to spot students in need of extra support and is the only way for parents to receive honest feedback on their child's educational progress. 
DeVos continues to explain, "There is broad and consistent support for assessments because there is general agreement among the public that a student's achievement should be measured."
And for DeVos supporter Kyle Wingfield, the president of the Georgia Public Policy Foundation, this is true.
"Tests are particularly important for poor kids, minority kids, kids with special needs, and others who for decades simply weren't learning at the rates their white and more affluent peers were. How do we know there's an achievement gap? Because all kids across a given state have to take the same tests" Wingfield writes in his opinion piece titled "Standardized Testing Necessary to Gauge K-12 Learning even during Pandemic" found on Savannah Now.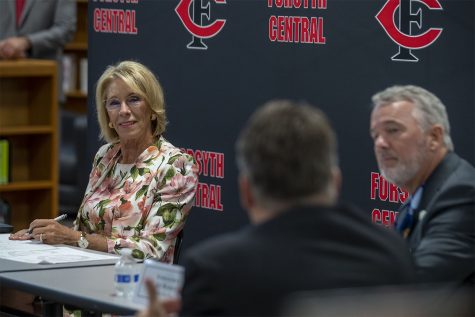 Wingfield, a supporter of Betsy DeVos' decisions on state testing, suggests from his claim above as well as the remainder of his opinion piece located on savannah now, that standardized testing is essential because educators need certain statistics to understand if students are getting the right amount of education or if they are just going through the motions. In addition, Wingfield claims that state testing can easily find "achievement gaps" among certain areas and is the only chance students fitting into minority categories can get the attention and help they deserve. 
Not only does Betsy DeVos believe that providing standardized testing annually is a needed obligation to better specify how well the curriculum is being taught, but she also claims that parents deserve to receive an unbiased analysis of their child's progress. DeVos supports her overwhelming feeling of support from parents by providing a survey conducted by the Data Quality Campaign. The statistics declare that about 90% of parents in the United States were requested to be "kept in the loop" with school closure plans this year leaving a whopping 77% of parents confirming their preference to continue the standardized testing.  DeVos claims represent that parents, especially in the year 2020, are eager to be as involved as possible in the school's plans to not only keep children as safe from the virus as possible but also to be easily able to keep tabs on their child's grades. 
In response to DeVos' citation of the Data Quality Campaign Survey, Woods said that these percentages do not represent how Georgians feel about the situation under any circumstance.  According to the superintendent, 96% of the 98,000 Georgians who gave input on the waiver agreed with suspending the tests for the 2020-2021 school year.
"This announcement from [DOE] disregards their voices and input," Woods replies after hearing the Data Quality Campaign statistics. 
As of the present day, only the knowledge that Georgia will be taking the standardized tests is confirmed. The amount of impact the state test will have on student's grades for the 2020-2021 school is still undetermined and in discussion with citizens of Georgia currently. Further updates will be given as further information is released to the public. 
Quick History on Standardized Testing 
At first federal law had required students attending public schools to take 17 high stakes tests before advancing to the next grade, but after a 2015 survey from teachers, the test number was brought down because teachers expressed that they were forced to cram so much information to students in a short period that the topic wasn't covered to its full extent for students to take away the full understanding of the standard.  

In 2016, the General Assembly passed

Senate Bill 364

which got rid of 8 of those mandatory tests, and the same year the State Board eliminated end-of-course tests as well. 

In July, lawmakers approved

Senate Bill 367

which cut half the number of high-stakes tests required for high school graduation. The General Assembly has continued to show support in limiting standardized tests.
Leave a Comment
Donate to The Lambert Post
Your donation will help support The Lambert Post, Lambert High Schools student-run newspaper! Your contribution will allow us to purchase equipment and cover website hosting costs.