Forsyth's Internship & Mentorship Programs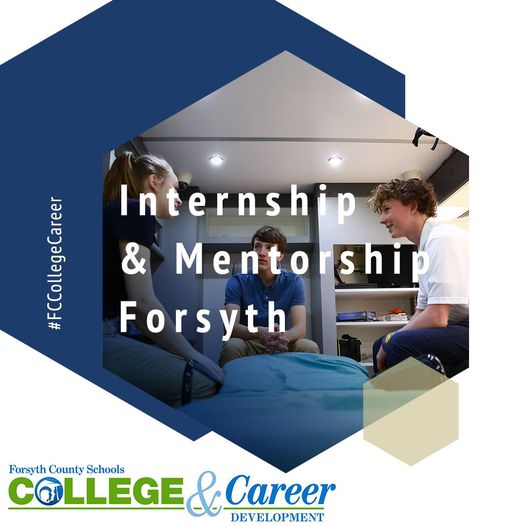 Forsyth County offers a unique opportunity for upperclassmen to pursue their passions through work-based learning or job shadowing. 
"Internship Forsyth is a structured experience which connects classroom learning to an engaging job opportunity," forsyth.k12.ga.us reports. 
Internships can be paid or unpaid, and students are permitted to leave their school campus to intern with local businesses. An internship will replace 1-3 class periods throughout the day and earn students an on-level course credit.  
To participate in the Internship Forsyth program, students must be at least 16 years old and have good grades, attendance and teacher recommendations. Additionally, to intern in a particular career field, students must have completed the pathway for the corresponding profession. For example, to intern in computer science, a student is required to have taken all three years of computer science courses.
Students who want to pursue a career in a field unrelated to their high school courses are encouraged to participate in Forsyth's mentorship program. 
"Mentorship Forsyth gives motivated, mature students a job shadowing experience designed around the individual student's interest in a specific field or career," forsyth.k12.ga.us says. 
Students can replace their class periods with a job shadowing experience similar to the internship program. In their field of interest, a student will be assigned a community mentor and complete one career-related research project for the duration of the school year. All mentorships are non-paid community experiences. 
Both the internship and mentorship programs give students:
Focused preparation for college, careers, and today's workforce

Experience directly related to your desired career

Networking skills and contacts

The ability to explore your passion for a profession

A unique college application that stands out in a competitive college and job market
Elizabeth Deans, a senior at Lambert, completed the healthcare pathway and is currently an intern at Peachtree Immediate Care.
"I'm able to give Flu, Strep and COVID tests as well as draw blood, give steroid shots and perform X-rays," Deans explained. "I've learned a lot about how urgent care works and what its employees do on a daily basis. I'm very glad I got this internship, as it's made me realize that healthcare is the right field for me. I've had great mentors, and I'm even planning on applying for a part-time summer job."
The deadline to apply to intern or mentor for the 2022-2023 school year is February 23, 2022. For additional information about the Forsyth Internship or Mentorship programs or to apply, visit www.forsyth.k12.ga.us/ctae, email [email protected], connect with a Career Development Coordinator or speak to a School Counselor. 
Watch the overview video here:
Leave a Comment
Donate to The Lambert Post
Your donation will help support The Lambert Post, Lambert High Schools student-run newspaper! Your contribution will allow us to purchase equipment and cover website hosting costs.