The Various Ethnicity Clubs at Lambert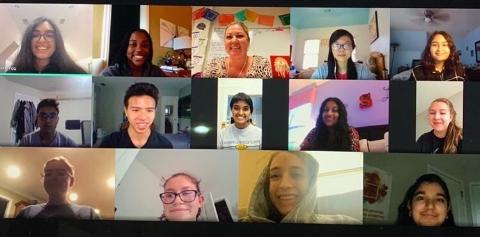 Lambert High School has a noticeably diverse ethnic population, with 57% white students, 31% Asian students, and 5.2% Hispanic students. For years Forsyth County lacked diversity, with 71.7% of residents being white, but since 2010, there has been a significant increase in migration of minority communities in Forsyth County, especially in Lambert High School.  
Many students have used this opportunity to create small ethnic communities within Lambert in order to create a community that can relate to the similarities in their culture. 
Rachel Lee, a junior, recently established the Korean Club at Lambert. 
She mentioned the lack of Korean representation within the school even with many of the students are of that ethnicity.  
"I've lived in America all my life, and I haven't really had that Korean community." Lee states. "Lambert didn't really have a club that relates to Korean culture which led me to start a club here." 
Lee explained the various activities one can participate in as a member of the club. 
Some of which include going out to eat ethnic delicacies, talking about their favorite Korean dramas and even going to community-building activities such as bowling. 
Sophomore and an officer of the South Asian Student Association, Kashish Palla, has always been interested in his culture. He was given responsibility for the club by the previous president after she graduated last year.
"It was handed off to us [him and his team] last year by a graduating senior," Palla stated. "I was talking to her because we both have the same goal for the South Asian Student Association, and she was like you can kind of carry it on when I'm off to college." 
Although Palla and his team members have not hosted any major activities yet, they plan on establishing various fundraisers to raise awareness for minority communities and social gatherings in the future.
Nayab Mithwani, a senior at Lambert, is passionate about the various ethnicities around the world.
She was offered the role of President of the International Club by Señora Hunt as a sophomore and has used her two years of leadership to help the club grow.
"I've been very interested in learning about different cultures, and I believe diversity and pluralism is such an important aspect of our society," Mithwani states. "Looking around at the diversity in Lambert High school, I was really drawn to learn more about it, so when I heard the announcement of the International Club I was able to talk to Señora Hunt and learn more about the club." 
The International Club also produced the Heritage Festival where they gave students the opportunity to display their culture through food, music and dance. This celebration of diversity took place on March 25th and displayed every students' culture and ethnicity. 
Many teachers have also been excited about the new change brought forth in Lambert. 
Mrs. Helm, an AP Environmental and AP Biology teacher at Lambert, discussed the new things that she learns every day as a Hispanic teacher in a school mostly consisting of Asians. 
"I think it's always good to have diversity for people to learn about other cultures," Helm explained. "Even as a teacher I'm always open to learning about your culture especially since in my previous school there weren't many Asians." 
These various clubs have brought diverse communities and students of Lambert together as they navigate their path through high school. If you're interested in joining a new club, visit the Lambert High homepage. 
Leave a Comment
Donate to The Lambert Post
Your donation will help support The Lambert Post, Lambert High Schools student-run newspaper! Your contribution will allow us to purchase equipment and cover website hosting costs.