Two Monarch Butterfly Activists Killed and Why It Matters
Just this past month, two monarch conservation activists in Mexico were found dead. The deaths have drawn attention to the tangle of disputes and violence surrounding the Monarch Butterfly Biosphere Reserve, which encompasses most of the overwintering sites of monarch butterflies. 
The first death occurred when Homero Gómez González, who was a tireless promoter of the monarch reserve, disappeared after attending a patron saint festival in the municipality of Ocampo on January 13th. His body was found two weeks later floating in a well and reportedly showed signs of torture. Gómez's death raised concerns that Mexico's illegal logging gangs targeted him for his advocacy and protection against the logging of forests that loggers want to access.
A second death further heightened concerns when part-time tour guide at a nearby butterfly reserve, Raúl Hernández Romero, was found dead on February 1st with injuries inflicted with a sharp object.
While no official motive has been announced, the crime groups suspected of committing these killings have been known to stray onto protected areas for lumber. The high prices of lumber cause "logging mafias" to use violence and log trees in protected areas for profit.
"Something strange is happening, because they're finishing off all the activists, the people who are doing something for society, said Amado Gómez, Homero Gómez González's brother.
The Monarch Butterfly Biosphere Reserve attracts thousands of scientists and tourists every year from the months of November to March as millions of monarch butterflies that have made the 3,000-mile migration from the United States and Canada overwinter in the breeding grounds in Mexico. But this migration has increasingly been threatened by climate change. What used to be millions of butterflies migrating to Mexico in the 1980s has become a mere 300,000 butterflies today.
Butterflies are not the only insects experiencing rapidly declining populations due to climate change either. A study found that more than 40% of insect species are declining and a third are endangered. The rate of extinction is eight times faster than that of mammals, birds, and reptiles. The total mass of insects is falling by a precipitous 2.5% a year, according to the best data available, meaning that insects could vanish entirely within a century.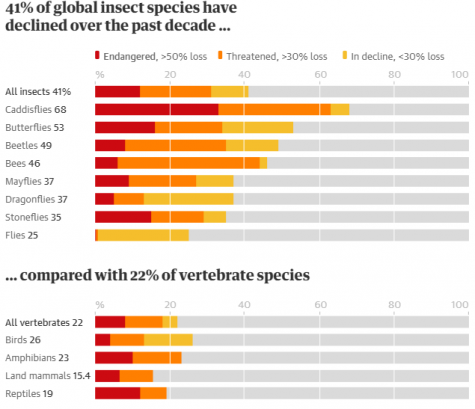 The decline of insects will lead to the collapse of entire ecosystems as they rely on insects for decomposition, pollination, and as a food source. The world will change as we know it if things do not change. The decline of insects is mostly attributed to the overuse of pesticides in our modern food production, which kills unintended beneficial insects. It is also attributed to climate change as ecosystems transform due to the changing temperatures. 
The deaths of the monarch butterfly activists highlight the destruction of our ecosystems and serve as a stern warning of the need to change our ways of life or face the collapse of nature itself.
Leave a Comment
Donate to The Lambert Post
Your donation will help support The Lambert Post, Lambert High Schools student-run newspaper! Your contribution will allow us to purchase equipment and cover website hosting costs.