Should Schools Remain Open with COVID-19 on the Rise?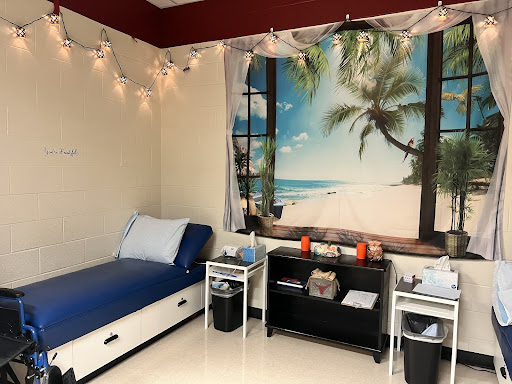 I know some of us feel it. There is a storm coming and it is not one of our Georgia Winter Snowpocalypses. COVID-19 is ripping throughout the country and the Omicron wave is flooding homes everywhere.
This new variant is extremely contagious and has made people question how we should resume our daily lives. Forsyth county even had two online school days and used this time to discuss how schools should move forward with the rising COVID cases.
Now we are back in school, but should we be? No new protocols have been added to Lambert to decrease the chances of contracting the disease. One new thing though, is that Brian Kemp put out a statement allowing teachers who are COVID positive to come back to school as long as they are asymptomatic and wear a mask.
Thankfully, transmission rates at school are fairly low according to well-rated Dr. Jacqueline Wong in a CBC interview. However, people are still getting COVID. I know of many classmates who have gotten COVID within the past 3 weeks. 
I wondered what students at Lambert thought about school in session with our country's overall health in recession. Luckily, I was able to interview sophomores Shruthi Rani and Heranmayee Barani.
I gathered that Shruthi and Heranmayee only advocated for school in person because of the better learning environment.
"I think we should be in school… especially for high schoolers." Heranmayee expressed. "It is necessary so the learning goes smoothly." 
 Education is our future…. if we do poorly in high school [with online learning] we will have a tough time in college," Heranmayee discussed.
However, the two also felt that the ideal situation would be that students could be learning online to diminish the rate of transmission of COVID.
"The virtual schooling should be something like zoom calls so that we still learn and do not fall back on the lessons," Heranmayee said. 
I absolutely agreed with her statement.
 Later on in the interview, I asked if they saw a change in their peers' attitudes towards COVID.
"Not really…everybody's doing what they have usually done," Shruthi said. "Half the school is wearing masks and half the people are not." 
As our COVID conversation continued, I asked them how they felt about one of our school's slogans, "Horns up, masks on." Unsurprisingly they had never heard of it; we all know that this slogan is not greatly practiced.
Shruthi did have some opinions though on the slogan's principle.
"I think they should make masks mandatory for sure," Shruthi stated. "I do not know how people would deal with that… but I think the cases would go down a lot. It would be a lot safer for everyone."
 Overall, like many students at our school, Shruthi and Heranmayee had mixed emotions on this COVID conundrum.
With all the information people may know from the news or studies they view, whether school should be open or not does not warrant a simple answer; there are so many factors to take into consideration. For example, people who rely on school meals do not get to have their meals, and the school community is disconnected.
When Forsyth had two only school days, I was elated. Our assignments were mostly busy work and I was able to relax after I finished my low workload. However, when online school is a longer semi-permanent solution, assignments are at their regular difficulty; this is hard on many students because there is no in-person instruction to fully explain and teach the assignment.
I did online school for all of my sophomore year and it became unbearable due to lower quality lessons and a lack of social interaction.
By the same token, there are downsides to in-person school. When it comes to my health, I do not feel safe at school for many reasons; people are coming to school with COVID, the school is crowded and many of my peers do not care about the disease. 
Because there are so many different elements in this COVID situation, like Shruthi and Heranmayee, I cannot fully support either side (online or in-person). However, for both scenarios, I do have a few suggestions for our school.
If we are to go online, the school needs to have a plan so that every student receives quality education and can maintain their in-person interpersonal relationships in the classroom. As for in-person learning, if we continue to stay in school, we need new COVID prevention protocols (outside breaks, hand sanitizing stations, etc.) so that the disease does not spread as much.
Now I have a couple of questions for you readers. Does the school being open or closed all come down to the idea of whether or not the downsides of potential terrible physical health outweigh the negative effects of a lackluster education and social isolation? Are there more factors? Feel free to comment Longhorns and stay safe out there.
Leave a Comment
Donate to The Lambert Post
Your donation will help support The Lambert Post, Lambert High Schools student-run newspaper! Your contribution will allow us to purchase equipment and cover website hosting costs.