Kojo Antwi on His Commitment to Ohio State University for Football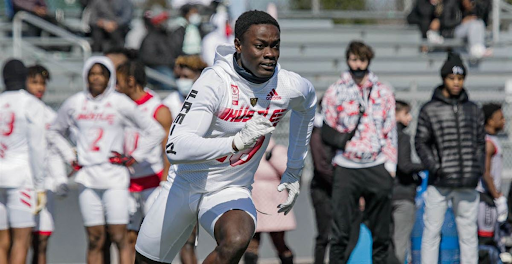 Back in August, one of Lambert's top athletes made their commitment to college for football: senior Kojo Antwi decided to continue his athletic career at Ohio State University. He is undoubtedly one of the most talented football players the school has ever raised with a rank of 132 out of all the 2022 recruits in the country. 
"The guy that really got me into football was Coach Brumbelow from middle school," Antwi explained. "He said I could have a future in it. 6th grade, he basically told me I should come out next year and see if I like it."
His motivations for the sport are definitely set deep as he has been playing since Brumbelow gave him the idea 6 years ago. Now a senior here at Lambert, Antwi has had the opportunity to further his football career to the collegiate level.
"The start of my sophomore year was when I really started taking [football] seriously," Antwi reflected. " I really started to realize I could take it to the next level and actually do something with it."
A large part of Antwi's collegiate search was deciding what type of school he wanted to go to. He mentioned looking at practically everything: coaches, culture, location, history, etc. all before eventually deciding on committing to Ohio State University. A key point in his choice with them however was their consistency to practically always make it to at least their conference championship and often the playoffs or national championship. 
Beyond his ideals with the college, however, his athletic feats helped him come to the realization that his talents were capable of taking him to a bigger stage. Antwi said he began to transition into a more all around player and focused on developing himself to become faster, stronger and to be able to compete once he made it to that stage.
"I felt like I really needed to bulk up, work on my hands, get faster; college players are obviously huge so I needed to bulk up a little bit and get a little faster," Antwi said.
Despite the intimidation that the hurdle of both bigger and older players should have on him, Antwi seemed unfazed by the prospect of stepping the scale of his football career from regional to national in one step. He made the observation that even though he would be playing a harder game in the upcoming year everyone is human, and while he may not be as strong or fast as some of the veteran players out there he can still keep up with them in his mentality of how to play.
Antwi will undoubtedly have an astonishing collegiate career and he will definitely go on to accomplish some incredible things with Ohio State!
Leave a Comment
Donate to The Lambert Post
Your donation will help support The Lambert Post, Lambert High Schools student-run newspaper! Your contribution will allow us to purchase equipment and cover website hosting costs.