Lambert senior athletes share commitment stories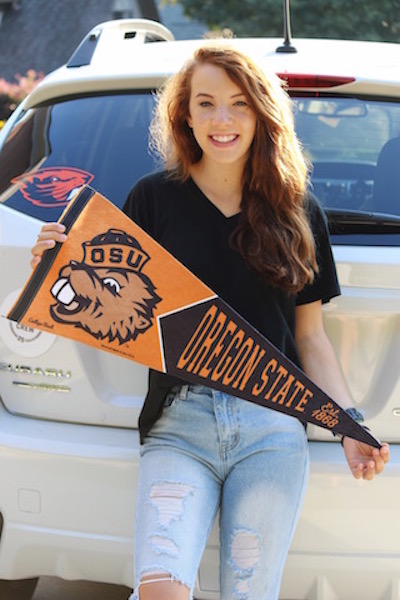 Lambert High School has a wide variety of talented students, a fraction of them being affiliated with sports. Out of those athletically-talented students, many have had the honor of receiving college offers and committing to play their sport after high school, such as Jaryd Jean-Felix, Morgan Berman, and Peyton Smith on their passion for lacrosse, Jordyn Ebert and Maddie Eddleman for their commitment to soccer, Marissa Guimbarda on her love for softball, and Victoria Shelton on the thrill she gets from rowing.
Jaryd Jean-Felix
"Here at Lambert, I am the captain on the varsity lacrosse team, and I also play defense. Making a decision for college at such a young age was difficult but I finally made the decision to commit to Rutgers University late summer going into my junior year. I went on visits to Mercer and Hofstra but neither of those schools was the right fit. After receiving other offers and touring other schools, It ended up taking me about two weeks to make the decision to commit to Rutgers for lacrosse.
My proudest moment on the varsity lacrosse team so far has been winning the state championship last year. We all worked very hard as a team and went undefeated for the whole season, and it was the last year I got to play with my older brother, Justyn."
Morgan Berman
"I committed to Virginia Tech to play Lacrosse at the beginning of my sophomore year. It was a relatively quick decision considering 3 other schools wanted me to play for them. Out of all of the schools, Virginia Tech just felt like home to me. I loved the coach and the whole school all together.
I am on the Varsity Girls Lacrosse team here at Lambert, and I am a goalie. The hardest part of being a student athlete is balancing homework with practices and workouts. My proudest moment on my team was last year, when we beat Chattahoochee in overtime. We went into the game as underdogs but we ended up playing phenomenally and were able to pull out an unexpected win."
Peyton Smith
"I am on the Varsity Girls Lacrosse team, and I have been playing on this team for three years as attack and middle. It took about a month for me to decide where to commit, but I finally decided to commit to Kennesaw State University in February earlier this year. It wasn't a difficult decision because I instantly fell in love with the campus, dorms and dining hall before even thinking about Lacrosse. After meeting the whole lacrosse team, I just knew that was where I belonged. About 10 other schools wanted me such as George Mason, Jacksonville University, Furman, Mercer, and VCU, but I couldn't imagine myself anywhere other than Kennesaw.
One of the most difficult things I've faced while being a student athlete has been missing lots of school for out-of-town tournaments every other weekend, so I am constantly going in early for extra help and going to tutoring in order to keep my grades up. My proudest moment playing lacrosse is definitely my 8th grade season. We lost our first game by over 10 points, but we kept working hard and we eventually made it to the championship game and won.
Jordyn Ebert
"I Committed to Mercer University January of last year. I had heard about the school, so I went to a soccer camp over the winter on the university campus, and the coaches contacted me saying that they were interested in having me as a player when I reach college. I revisited the college about a month later and met with the coaches and while I was there, I fell in love with the campus and the school. I knew right after that visit that I wanted to go there. At the time I committed, about 3 or 4 other schools were interested in me, but I knew Mercer University was where I belonged.
I play on the Varsity Girls Soccer team here at lambert, and I am a goalkeeper. My best moment in my soccer career was my sophomore year, when the varsity team made it to the state championship game. Even though we didn't win, we made it much farther than we could have ever imagined, and it is still a huge accomplishment. The hardest part of being a student athlete is balancing school work with my 3-4 practices a week and games on the weekend, not to mention traveling around the southeast for a majority of the games."
Maddie Eddleman
I committed to the University of Vermont in March of my sophomore year. They reached out to me after seeing me play in a tournament and they invited me to visit their school. After visiting, I researched the school and found that they offer my hard-to-find major: Medical Laboratory Science with a minor in Forensics. Another determining factor for me was that the University of Vermont is a division 1 school, and it is important to me that I play at a high level. When I met with the team and coaches, everyone was so welcoming and I could see myself playing at that school. After working since 8th grade to find a school, I was finally able to commit to an amazing one.
I play for a club team, the Olympic Development team, and the Lambert Varsity Girls team. I am an attacking center mid and a center forward. It's very hard to have time for friends, family, athletic studies and rest while being a student athlete. My greatest accomplishment was winning the State Cup and becoming state champions this past summer for my club team."
Marissa Guimbarda
"I have been playing on the Lambert Varsity Softball Team for 4 years now as a pitcher and a first baseman. I went on many college visits before making a decision, and at the beginning of sophomore year, I made the decision to commit to Furman University. The campus is beautiful, the coaches are amazing, education is great, and Younglife Greenville is one of the biggest chapters in the US. Aside from Furman, I had Mercer, Lipscomb, Georgia State, and some other smaller schools looking at me.
The hardest part of being a student athlete is the time commitment. This year I am taking 2 college classes along with an AP class, so I basically live on the field and in the library. It is difficult to work with, but we are undefeated in the region right now so I'm very happy. My proudest moment was when I committed to Furman. It was the moment when I realized that all of my hard work had paid off and the dream that I had when I was 8 was actually coming true."
Victoria Shelton
"I committed to Oregon State University on Friday, September 30th. The decision ended up being really hard. I originally thought I would commit to the University of Louisville in Kentucky, but I knew after stepping on campus at OSU that that was where I wanted to be. Although 8 other schools were talking to me, I just went with my gut and where my heart was telling me to go.
I row for Atlanta Junior Rowing Association and I'm a coxswain, so I'm the one in the front (or back) of the boat with a mic giving directions. I don't row myself; it's a hard job to explain. I'm like an extension to the rowing staff; the rowers are the brawn, I'm the brain.
There's definitely been struggles through the sport with different coaching staff and I did switch from the women's team to the men's team a couple years back which was fun and difficult all at the same time. I would say that when I initially started rowing, time management was the biggest struggle in regards to being a student athlete. It took a lot of balancing my schedule at first, but four years later I have it down for the most part and feel a lot more prepared for college because of it.
My proudest moment on my team was last year at the Southeast Youth Championship. We went in as underdogs against really fast Florida programs. The day before, we lost to them in the heat, so we were really nervous. We weren't too hopeful and we were extremely nervous when we ended up right next to them in the final but halfway through the race, we all pulled together and shot ahead , getting the bronze and making it to nationals over a team we never expected to beat . I definitely had tears at the end of that race. I was just so proud of the guys pushing through and not giving up, even when everyone was expecting us to lose. It was unreal.
Committed seniors not included in this piece: Jake Alesia, Brenna Reilly, Eric Overbay, Josh McAllister, Jane Johnson, Cameron Barnes
Leave a Comment
Donate to The Lambert Post
Your donation will help support The Lambert Post, Lambert High Schools student-run newspaper! Your contribution will allow us to purchase equipment and cover website hosting costs.