Many "Woo" for Netflix's Extraordinary New K-Drama
When another Korean drama was added to Netflix, most people assumed it was the same as what they had seen before. Upon further inspection, however, "Extraordinary Attorney Woo (EAW)" was very different from viewers' expectations of a typical K-Drama. It has LGBTQ+ representation, mental disability awareness and fun facts about marine animals all packed into 16 episodes. Viewers can watch Woo Young-Woo's life and the challenges she faces as an attorney with autism. 
The show starts with Woo Young-Woo finally landing a job as a rookie attorney at Hanbada, a well-established law firm. Immediately, the show illustrates her struggles with seemingly simple tasks due to her condition. Despite these obstacles, her unique cognitive allows her to have excellent memory retention and the ability to absorb new information at incredible speeds.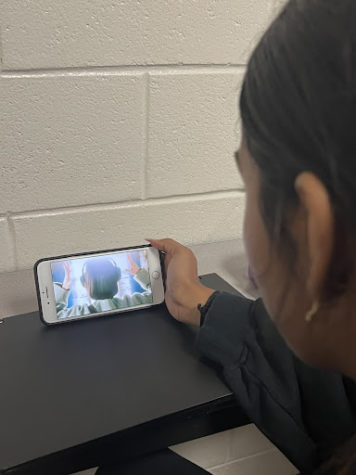 Lambert junior Shakthi Krishna is a dedicated K-Drama fan, including EAW. She enjoyed the show when it first came out on Netflix and loved how the show explored new topics that are not usually seen in K-Dramas.
"I think it was something that hasn't been done, properly at least, in the past so they must have liked the representation of characters like this," Shakthi said.
Instead of the typical romance drama with a focus on the two romantic leads, EAW follows the personal journey of Young-Woo and how she handles her different cases. Despite the fact that romance was not the focal point, the existing romantic scenes were executed nicely. 
"Probably because of like [sic] the accurate execution of the character itself and how she was empowered rather than shown as someone who wasn't capable of doing things for herself," Shakthi said. "Probably also because the romance between the two characters was also portrayed in a very positive and empowering way." 
With 98% of viewer approval, EAW was incredibly well-received by audiences worldwide. Popular K-Dramas like "Business Proposal" and "True Beauty" – both of which are romance dramas with rich male leads and a predictable love story — are not loved for the same reasons as EAW.
Viewers enjoyed seeing the world through Young-Woo's eyes and how her quirky mannerisms were accepted by her colleagues and friends, including her love for whales and other sea creatures. It is clear that Netflix prioritized producing autism in an accurate, sensitive way on screen.
With the rise in popularity of K-Dramas worldwide, it is vital that their messages broaden and their storylines become more inclusive. "Extraordinary Attorney Woo" is the first step in that direction.
Donate to The Lambert Post
Your donation will help support The Lambert Post, Lambert High Schools student-run newspaper! Your contribution will allow us to purchase equipment and cover website hosting costs.